Today Management on fight against a drug trafficking celebrates the 16 - the anniversary. As the chief of Regional Department of the Ministry of Internal Affairs of Ukraine in the Nikolaev area militia colonel Vladimir Uvarov noted, in 16 years receive the passport. But, besides, according to the Criminal code, with 16-ти years there comes criminal liability …
Service in БНОНе really difficult and full dangers and temptations.
- This service - it from the most priority, - Vladimir Uvarov told. - It is difficult to work, there are risks in operating time with category of drug-addicted people. There are many temptations.
Vladimir Uvarov wished to employees of health, opresky good luck, career growth, high-profile cases and great human happiness. "Crime. Is NOT PRESENT" join to Vladimir Gennadiyevich's congratulation.
Despite of discontent constants which regularly sound on boards to БНОНа, today employees heard only gratitude and congratulation words.
- Today the situation is leveled, - Vladimir Uvarov in interview "Crime noted work БНОНа. Is NOT PRESENT". - But not those rates which it would be desirable to see. Unfortunately, difficulties are, many regulations became outdated, but already is late distributors of drugs more, more drugs are withdrawn.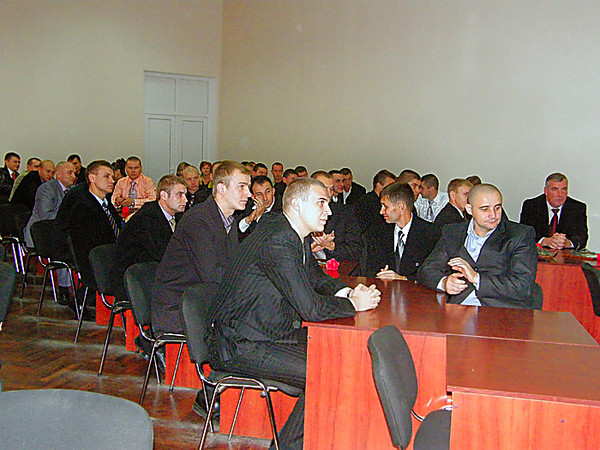 In honor of a holiday to many employees instead of awards removed reprimands, someone received diplomas, the Distinction of the Ministry of Internal Affairs of Ukraine "For narcocrime counteraction" the I degrees awarded the head of department of the prevention of offenses on objects of legal trafficking in narcotics, psychotropic substances and precursors UBNON Regional Department of the Ministry of Internal Affairs of Ukraine in the Nikolaev area of the lieutenant colonel Vitaly Sologub.
On action there was no Chief УБНОНа at the Nikolaev area Vitaly Kuratyov, it is in official journey. But the former chief of UBNON (1997-2002gg was invited for delivery of a valuable present. ) militia colonel Sergey Trofimenko.