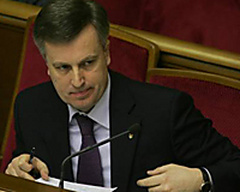 Staff of special forces of SBU "Alpha" detained on November 2 in Kiev the first deputy chairman of the State ecological inspection in Kiev region which extorted from the representative of commercial structure 200 thousand dale. bribes in order to avoid responsibility for violation.
As the correspondent of the UNIAN reports, about it today journalists were reported by the chairman of SBU VALENTYN NALYVAICHENKO.
According to him, the official was detained during receiving the first part of money in the sum of 20 thousand a dale.
As V. NALIVAYCHENKO told, during detention the official tried to throw out this money from a window.