Today at session of the Kharkov city council the mayor Mikhail Dobkin told to deputies that in the local subway young people who extended leaflets with a sneer company about the party leader of regions Victor Yanukovych were detained.
On a leaflet with symbolics of PR information submitted in the form of the program of the candidate for the President Victor Yanukovych is written: the house worth 400 million dollars, collection of hours (worth from 100 thousand dollars to 1 mln. dollars), shoes from ostrich's skin (5 thousand dollars) are mentioned.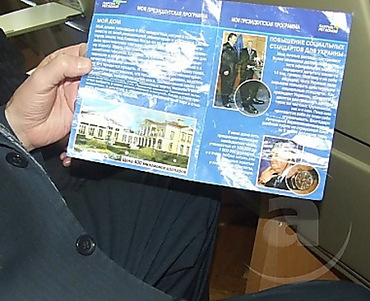 The mayor urged political parties to refuse such actions.
"Don't push young people on illegal actions. It won't help your candidate, and to ours won't damage", - Dobkin told.
And the secretary of the City Council Gennady Kernes declared that phones which are withdrawn from the detained young people, belong to BYuT. But the member of BYuT fraction in the City Council Victor Larchenko disproved this information, having answered that Yulia Tymoshenko Bloc has no relation to these leaflets.