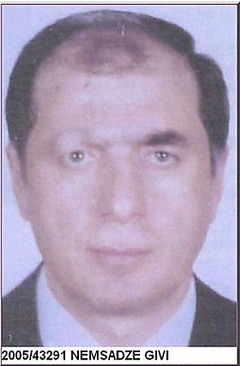 Givi Nemsadze for which group 57 murders are registered, pled in Geprokurotura guilty and was released under a subscription about not departure.
Nemsadze's gang is considered the largest and bloody for all history of Donetsk region. "Fighters" who else at the beginning of 90-x were brought together by the native of Sukhumi Givi Nemsadze, undertook any work - custom-made murders, extortion and assaults. The gang controlled a gaming of Donbass, the market of metal and even underground shops on production of liqueur - vodka.
But about existence of this gang led by now 56 - summer Givi Nemsadze, it became widely known only in 2005. Now the ex-the chief of a regional central board of militia Mikhail Klyuev published news that 11 members of this gang managed to be detained. For two even it was necessary to go on the territory of the Russian Federation. On the account at criminals of 57 murders. Among them there were businessmen whom eliminated to take business, competitors and a great number of simply casual witnesses. In pedigree dumps militiamen looked for burial grounds on area even more than a year. The real effect of the become torn bomb was caused by Mikhail Klyuev's statement that members of a gang were connected with officials of the highest rank, deputies and even employees of power structures.
However, it wasn't succeeded to dress then handcuffs on Givi Nemsadze. The leader of a gang put on the international wanted list. But within 5 years the leader of a gang managed to disappear safely. And here last week across Donetsk hearings that the chief specialist on murders returned spread. Allegedly, on it even closed criminal case.
- Nemsadze really any more in search. So theoretically maybe in Donetsk. - foggy the head of department of criminal investigation department of the Department of the Ministry of Internal Affairs of Ukraine in Donetsk region Vladimir Grachev commented on a situation. - And as for materials on this case, all of them are in the Prosecutor General's Office.
Meanwhile, in the Prosecutor General's Office of Ukraine categorically disproved all hearings that criminal case on Givi Nemsadze and his gang is closed.
- The criminal case opened on the head of criminal group of Nemsadze isn't closed and continues is in production General прокутуры. - I reported a press - the secretary of the Prosecutor General's Office of Ukraine Yury Boychenko.
However, from sources in the Prosecutor General's Office, it is already known that the leader of the most bloody gang, preferred to give up. After 5-ти years is in hiding, Givi Nemsadze decided to interrupt voluntary hunting for and personally came to the building of the State Office of Public Prosecutor in Kiev.
As it appeared, one of the most searched criminals of the country, was there not empty-handed, and with medical certificates which confirm existence at accused serious diseases.
So, to Nemsadze's pre-trial detention center didn't get. The decision to take from it recognizance not to leave for the period of trial was passed. And meanwhile, accused I returned small home - to Donetsk where leads far not a solitary life.
Already in the nearest future Geprokuratura plans to submit the criminal case opened on Givi Nemsadze to the Kiev regional court of Donetsk. However, any of witnesses who can confirm crimes of "chief specialist" on murders, already isn't present in the live.
Meanwhile, orientation to Givi Nemsadze's international search isn't removed from the official site of "Interpol" yet.