Police officers detained sentenced to six yearsAlexey Kazimirov, brought down to death 20 - summerTo Yuli Kalanchev.About it "Crime. Is NOT PRESENT" mother of the lost girl Elena Smirnova reported.
Only, as the woman noted, the detainee didn't carry to a pre-trial detention center, and decided to place in one of the Nikolaev hospitals, allegedly from - for problems with health. Considering that meeting of Appelyatsionny court in the Nikolaev area at which will consider a sentence of the Central regional court to Alexey Kazimirov the other day will take place, Elena Smirnova suspects that Cassimeres solved appears to get on meeting with new medical certificates.

According to physicians of Hospital of an emergency medical service of Nikolaev,Kazimirovato them brought this morning, however, there it didn't accept. The father of the lost girl told that after that him decided to carry to neurologic office of city hospital No. 3 which is in the residential district Oaklets. But also there the detainee refused to accept, carried to city hospital No. 4, wherefurtherKazimirovaalso defined.
The father lostYury SmirnovI reported that already I contacted the chief physician of medical institutionVasily Gunchenko, however, that refuses as - or to make comments on this fact. The man assumes that all this turmoil with a detour of the Nikolaev hospitals is connected with that physicians simply didn't want to contact this resonant business therefore didn't acceptKazimirova.

It should be noted that in prosecutor's office of the Nikolaev area confirmed the fact of its detention.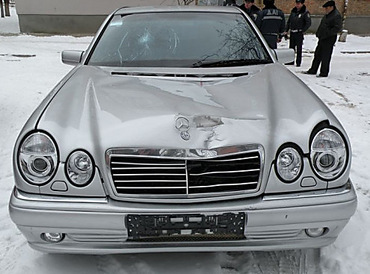 The car on which Cassimeres brought down the girl
We will remind, "Crime.ISN'T PRESENT" wrote that that on January 26 the current year The central district court of the city of Nikolaev sentencedAlexey Kazimirov, which on the Mercedes car to death brought down 20 - the summer Nikolaev studentTo Yuli Kalanchev, to imprisonment for six years without the right to operate motor transport for a period of three years. It is remarkable, but the judgeAndrey RudyakI read a sentence in absence of the defendant, his lawyer and the prosecutor. Then the judge present didn't call the reason why the defendant wasn't in a court hall on the sentence announcement.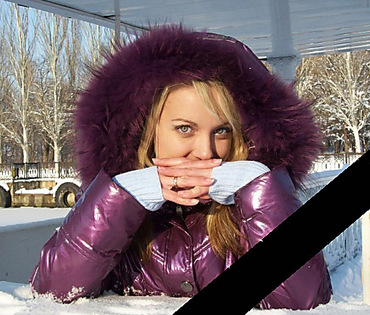 Yulia Kalancheva
Besides earlier it was reported that, according to the chief of the Nikolaev municipal government of militiaNikolay SvetochevCassimeres, it is put on the wanted list and active works on establishment of its location are conducted.