Today, on December 19, at 10.00 at the Academic Ukrainian drama theater and the musical comedy celebration of Day of Saint Nikolay to which children - orphans were invited, the children deprived of parental guardianship, and also pupils of orphanages of family type and foster homes had to take place. It was in addition planned that the head of the regional state administration Alexey Garkusha will hand over awards to talented children. But weather disposed differently …
Instead of a long-awaited holiday and charitable representation "A gold chicken" children were expected … by only small gifts, even without Saint Nikolay.
"The grandmother, and long still to wait? And Saint Nikolay will be? ", - the little girl asked, bothering for a sleeve the grandmother.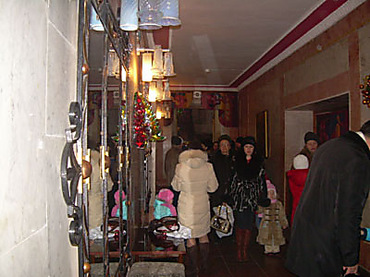 "Lenochka, you see what weather? Saint Nikolay fell and broke a leg, but transferred a present", - the grandmother answered, and the whole scale of feelings was reflected in a child's face - from chagrin to offense at this time.
Unfortunately, from - for weather conditions, ice, celebration of Day Saint Nikolay at theater cancelled as about 300 children from regions of the Nikolaev area couldn't arrive for a holiday. Those who lives in the city could come only and that reached with problems.
But nevertheless there is a question - why didn't show representation by that who came? And about 70 children …
came after all