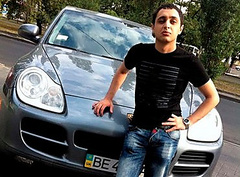 Brought down to death the Nikolaev student Yulia Kalancheva and Alexey Kazimirov unbound on a state of health walks on the downtown, with friends eats «doner kebab» , and, as parents of the brought-down girl speak, again goes at a wheel.
So, correspondent «Crime. Is NOT PRESENT» during May holidays I became the eyewitness of how Cassimeres together with the friends drove up on the car to snackbar «Kebab» , located on crossing of streets of Shevchenko and Soviet. On video it is clearly visible that released of a colony fatally the patient quite well feels, laughs and looks quite healthy and cheerful.
We will remind as earlier it was reported, in January, 2012 the Central district court of Nikolaev I sentenced Alexey Kazimirov to imprisonment for six years without the right to operate motor transport for a period of three years, and also to compensation to relatives lost moral (250 thousand hryvnias) and material (49 thousand hryvnias) damage.
Appellate court of the Nikolaev area I confirmed this sentence, and Cassimeres it was transported under guard in the Daryevsky colony of the Kherson area.
However, literally in few months, on July 20, 2012, Cassimeres it was–on freedom it let out under article under which release the fatally sick. Right after it on social networks on the pages released I began to upload the pictures, testifying that he leads full life and about any heavy illness, judging by a photo, it isn't necessary to speak. Thus he again began to take the wheel of expensive foreign cars.
It is remarkable, but in April, 2012, during consideration of the appeal of Cassimeres in a hall of court I sat, having clutched at the head, I mumbled during answers to questions of the judge, I declared that it «thinks nothing, almost sees nothing and it has a strong headache». It is indicative that day even subpoenaed fast that doctors measured to it pressure.
Cassimeres after short «prison terms» , it is obvious, at all doesn't suffer from «incurable illness»
Today Yury Smirnov, the father of the girl whom to death I brought down Cassimeres, having abandoned her to die on the road, claims that released on freedom walks in bars and night clubs and continues to go at a wheel and even again nearly I didn't bring down the person.
- It was at Vaslyaev's intersection and Mira Avenue where - that till Easter, to us called and told–urgently report in GAI, it goes now by car, it is exact it, this is our lawyer personally saw, it, actually, nearly didn't bring down it–I went on red light and I cut it. Our lawyer couldn't be mistaken, he is the former military, he speaks–I have an accurate sight, I perfectly see everything. Well and so on us repeatedly too report, little girls saw it in club, acquaintances in the bar saw. He in taverns, in bars freely to itself(himself) has a rest, - Yury told.
At the same time he added that GAI on the fact that he without the rights and even the passport to take the wheel of cars, anything can't do as it is more favorable to them to stop it and each time to take from it money.
- To us explained, what even GAI officers vneglasno say that to them is unprofitable to close it, to detain, it is more favorable to them to stop it and to remove from it 300-400 hryvnias. It goes quietly around the city. To me speak, the militia at you there is connected with all this, this all Gipsy the mob goes already to the general Parsenyuk, there sharing, speak, goes such, narcobusiness, they pay, and it is favorable to militia unambiguously–from them always it is possible to have well. As we were told, at it even the passport selected, but we were told that it in any bar was proud that he will receive the new passport and to it supposedly promised, even to make a new surname, - Yury Smirnov told.
We will remind as it was already reported, the lawyer Kazimirova Vladimir Timoshin standing in People's Deputies from party of Natalya Korolevskaya «Ukraine - forward!» , I declared that it the client is fatally sick also I was indignant with decision of the courts which put it for six years. Father of the criminal considers normal that his son instead of serving of punishment rides on «Porsche» , and answering: «Well and what?».The chief of the Nikolaev regional management of militia Valentin Parsenyuk, in turn, declared that, in his opinion, even the Public prosecutor of Ukraine won't be able to return the murderer of the Nikolaev student for a lattice.