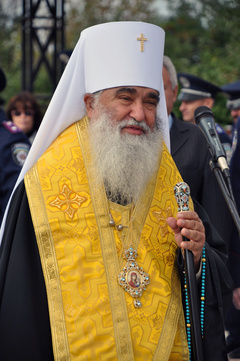 The metropolitan Nikolayevsky and Ochakov Pitirim for a long time it is sexual I solicited Tatyana Lech who sings in chorus, beat her forced to perform a hard physical activity, and in case of disobedience threatened to expel from church.
About it to a site «N news» the married couple Yaroslav Hutornoy and Tatyana Lech reported.
On these facts of the spouse addressed with the statement in the Central regional department of militia of the city of Nikolaev and to the governor of Nikolayevshchina Nikolay Kruglov.
Both statements are registered in the Central regional department of militia on September 3.
«Within seven last years the metropolitan Pitirim sexually solicited me, punched in a face, publicly humiliated, forced to work hard and threatened to expel from church in case of non-obedience» , - Lech is told in Tatyana's statement.
Tatyana Lech also reported that knows one more woman, by the name of Aleksandra (Shura) who told it that was exposed to sexual harassments from the metropolitan.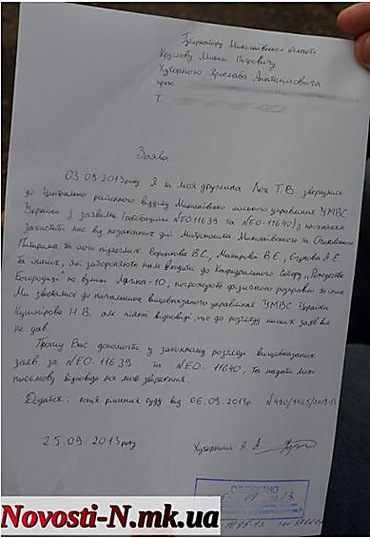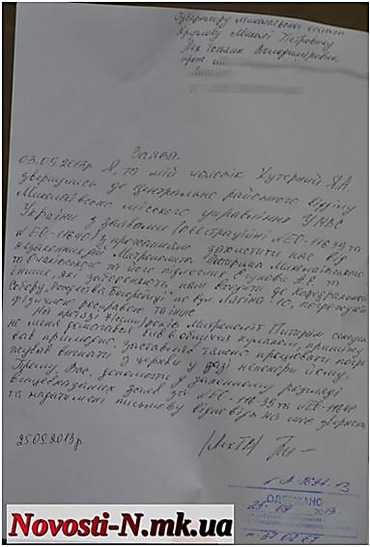 In turn Tatyana's spouse Yaroslav Hutornoy told that he tried to approach to the metropolitan and to talk about the wife, however, him accused of attack on the lord. Business was brought to trial and on September 6 this year the judge of the Central district court Sergey Cherniyenko passed the decisionto close production due to the lack in Yaroslav Hutorny's actions of structure of a crime.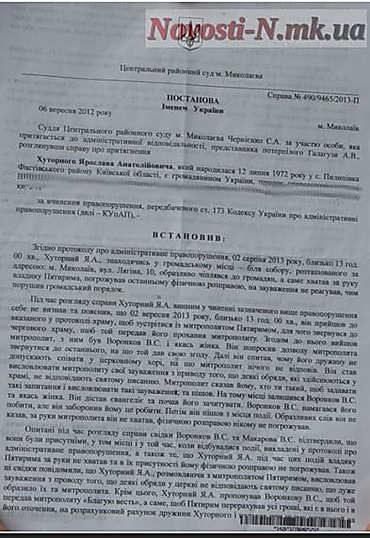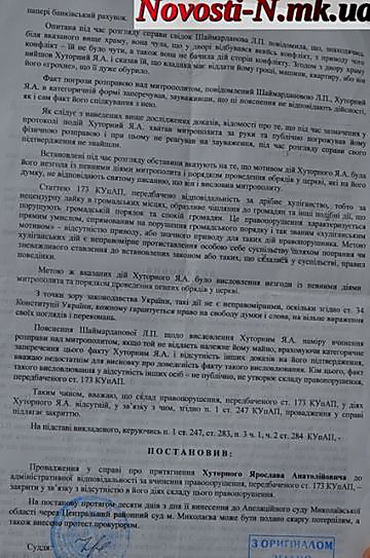 We will remind as it was reported earlier, during day service in the Cathedral of the Nativity of the Theotokos on the metropolitan Nikolayevsky and Ochakov Pitirim the parishioner attacked.
After that, Pitirim characterized «attacking» , as «obsessed with demons» , and the militia began to collect materials for the address court according to Art. 173 of the Code of Ukraine about administrative offenses - «small hooliganism».
At the same time, the militia didn't find the bases for attraction to any responsibility of the man who allegedly attacked the metropolitan Nikolayevsky and Ochakov Pitirim.
Now, according to spouses, they aren't let in church by Cossacks and assistants to the metropolitan, declaring that they are anathematized. Both Yaroslav Hutornoy, and Tatyana Lech, according to them, are people deeply believing and impossibility to visit the temple for them—heavy punishment.