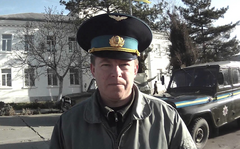 The colonel Yuli Mamchur and other detainees in the Crimea military now release, tomorrow they will be in Kiev.
I reported about it at a briefing of the acting president Oleksandr Turchynov.
He reported that now there is a process of release taken in hostages during storms and provocations from Russia the general - the major Voronchenko, the colonel Mamchur, the commander of a battalion of marines in Feodosiya lieutenant colonel Dmitry Delyatitsky and the deputy on work with staff Rostislav Lomtev's major.
"I want to inform you that thanks to the measures taken by us right now there is their release, and I hope that already tomorrow we will be able to see them in Kiev", - Turchynov told. He added that the officers who have proved during opposition, will be awarded for courage and firmness and promoted.
Deputy secretary of the National Security and Defense Council Victoria Syumar I reported that the re-deployment of the Ukrainian armies on the mainland proceeds. In particular, on continental part 47 marines from the ship "Kirovograd" were relocated. They are temporarily billeted in Genichesk. Now negotiations on removal from the Crimea other military units with equipment and the weapon are conducted.
We will remind, earlier it was reported that at krainsky officers refuse to leave a part staff in Belbek and demand to return the commander Mamchur.
We will remind, earlier it was reported that as of morning on March 26 in to captivity the Russian invaders had six military commanders.