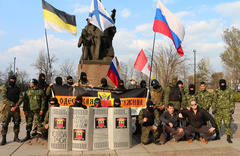 On Friday, March 28, to Nikolaev arrived about 20 пророссийски the adjusted young people dressed in masks and a camouflage–now they are in camp so-called «defenders of a monument Olshantsam».
So, about 20 young people dressed in a camouflage, a balaclava and helmets arrived on Lenin Square to a monument to Heroes - olshanets. They held the boards relating to militia spetsilny ammunition, flags of Russia in hand (including a flag of the Russian Empire), Odessa and the Andreevsky banner of the Russian fleet. On boards they a marker wrote «Glory of Russia» and «Glory «To golden eagle» and VV». Arrived itself designate «combatants» - participants of the organization «Odessa team».
On Lenin Square the arrived were built at a monument to Heroes - to olshanets, assigned flowers to a memorial, shouted «Glory of Russia» and «Slava Berkutu» also posed in front of cameras. After that «combatants» left on «field dinner» to tents of the Nikolaev Russophiles in the nearby square. Also one their guys in masks I urged nikolayevets to arrive to Odessa for a response stock.
For «performance» the arrived swells about two tens pensioners, small group of the Nikolaev Russophiles with St.George's Ribbons and employees of the Nikolaev specialcompany observed the militias which were standing apart. Separate nikolayevets, generally women, were revolted with arrival of swells in a camouflage, from - for what argued with пророссийски the adjusted people.
One of the arrived swells told that they arrived to Nikolaev from Odessa to congratulate citizens on anniversary of release from German - fascist aggressors. According to him, inhabitants of Odessa intend to remain in Nikolaev for a couple of hours then to return back. Also according to its story, on entry into the city cars of inhabitants of Odessa were stopped by GAI for examination - standard procedure recently. Militiamen examined cars of inhabitants of Odessa then passed them to the city.
We will remind, earlier it was reported that «Odessa team» the Russian neo-Nazi Anton Rayevsky trains–member of the organization Black one hundred.