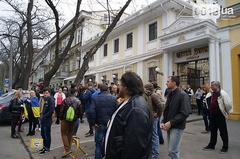 Group of the Odessa supporters «Euromaidan» under hotel «wallsPromenade» on To the Fontansky road expects appearance of the candidate in Oleg Tsarev's presidents.
About it reports «Timer».
About one hundred people blocked hotel. Tsarev, which, on to opinion «evromaydanovets» , there is inside, all not leaves. Activists prepared eggs, brilliant green and other subjects intended for to organize нардепу «warm welcome».
According to the activist «Euromaidan» Mark Gordiyenko, people also want to ask at Tsareva, as it belongs to annexations of the Crimea and when World War II began.
Periodically activists try to pass in the hotel building, but them there not let.

Live streaming video by Ustream
Not far from hotels, on to other party of Fontanskaya Road, there is a group from about three tens pro-Russian activists in helmets, masks and with bludgeons.
The public order is protected by some tens police officers, including fighters of internal troops in to full fighting equipment. In present moment they were built by a chain along the hotel building, other group settled down in to ten meters from groups of the Kulikovy field. The parties cry out chants, trying to outvoice each other.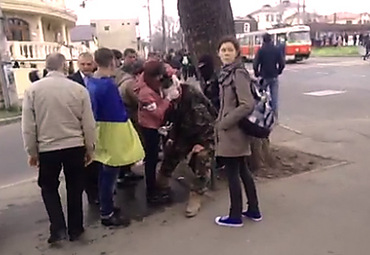 From hands activists the cars parked behind hotel suffered: activists «Euromaidan» poured over them paint and broke numbers.
The pro-Russian activists burned is black - a red flag of unitary enterprise. A fight flashed. In course smoke grenades went. The militia managed to take a situation under control.
Separatists from the Kulikovy field decided to collect group on help to the adherents who have fought with «evromaydanovets» on 9-й Fontanskaya Road stations. The pro-Russian activists quickly enough collected shock group quantity approximately in 500 people and moved forward to to conflict place.The going fly red flags and chant «Hugo - the East» , «Odessa, get up» and «The fascism won't pass».
We will remind, before the candidate for president, until recently «regional» Oleg Tsarev in Nikolaev showered with eggs and struck on the person.
At the same time we will note that, the candidate for president Sergey Tigipko in Odessa also threw eggs.