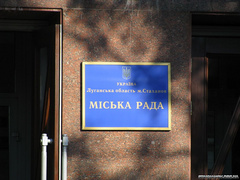 In Stakhanov Lugansk area about 40 armed extremists in masks occupied premises of city executive committee.
I reported a press about it - service MINISTRY OF INTERNAL AFFAIRS Lugansk area.
«In Stakhanov city department of militia on May 1 the message that about 40 armed people, in masks took place in executive committee of the city of Stakhanov arrived at 17:50. Thus any requirements from the armed persons didn't arrive» , - it is spoken in the message.
This fact is registered. An inspection is carried out.
We will remind, in the morning on May 1 in Stakhanov the next attempt of the mayor Yury Borisov to collect session and broketo vote for holding a referendum.