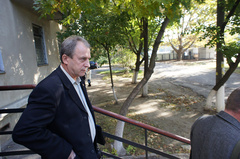 In Nikolaev, on Monday, October 6, the crowd of people pushed in a trash can and poured brilliant green of the head of department concerning emergency situations of the Nikolaev regional state administration, the deputy of a regional council from Party of Regions Pyotr Kaminsky.
We will remind that in the middle of August in Nikolaev Kaminsky, being at a wheel official car «Daewoo Leganza» , I became responsible for road accident. Examination confirmed that Kamenskit was drunk, when was at a car wheel.
So, on October 6 in Leninsk district court of the city of Nikolaev court session, concerning incident with participation of the official took place, the correspondent reports «Crime. Is NOT PRESENT».
At the courthouse about 30 people, some with a flag gathered «Right Sector». They drove a trash can the building and threw there Kaminsky who left after court session. From above the official was poured brilliant green.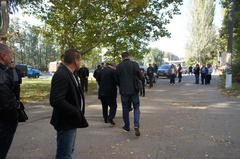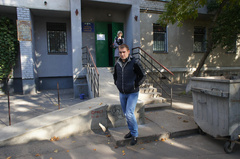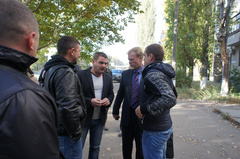 Kaminsky's lawyers started shouting «What do you do? His fault in court isn't proved». People answered it that they were present on road accident and saw drunk Kaminsky.
- He is a criminal, - they declared.
We will remind that Pyotr Kaminsky I got off with usual reprimand from the head Nikolaev YEAH Vadim Merikov.