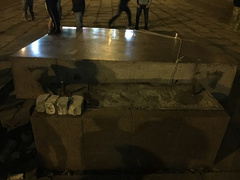 The group of residents of Nikolaev in the night of June 18 tumbled down a bas-relief to Lenin which was washed so carefully by communists and patriots painted in a national ornament.
It is known that the bas-relief was on Lenin Avenue, around crossing with Oktyabrsky Avenue.
So, user of a social network Facebook under a nickname "Angry Lyustrator" published the photo of the tumbled-down bas-relief.
«Lenin on the prospectus to a fsa!!!» - "Angry Lyustrator" wrote.
At the same time, It should be noted that after the bas-relief fell, all attendees began to chant the slogan - "Glory to Ukraine! To heroes Slava!".
We will remind, earlier it was reported how in Nikolaev unknown ornamented a bas-relief with Lenin–then at «leader» appeared a vyshivanka and oseledets.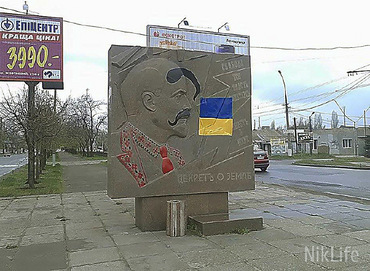 After a while, unknown beat communists who tried to deprive of Lenin of a vyshivanka and moustaches.
It is also possible to remember, how this bas-relief poured red paint.