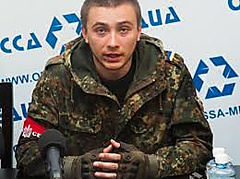 Today, on September 8, law enforcement officers arrived to the place of residence of the head of the Odessa regional organization of political party "Right Sector" to Sergey Sternenko for carrying out searches.
About it "Crime. Is NOT PRESENT" I reported a press - the secretary of political party the Right Sector.
So, according to activists of the organization, to Sternenko's house unknown people in masks, with the weapon and without identification marks appeared suddenly.
- Most likely, from militia, but the confidence can't be. They carried out a search at Sergey, without having allowed the lawyer who together with activists and members of the media stood under Sergey's apartment at this time. Sternenko managed to report only that he has a search then communication with it was gone. There were witnesses - it isn't known, but anyway it were no the people invited by Sergey, - activists tell.
Also supporters of the Right Sector reported that after a search of the person in masks took away Sternenk in the unknown direction. Activists who tried to stop the car to learn who these people and of what they suspect Sternenko, allegedly nearly moved by car.
After a while, a press - the secretary of "PS" Varvara Chernoivanenko reported that Sergey Sternenko is in the Organized Crime Control Department to Osipov's address 23.
Photo Konstantin Gak
We will remind that unknown took out the deputy of Kominternovsky regional council of Odessa region Sergey Shcherbich who on recent by-election across Fontanka won a victory, to Odessa where kept in the cellar and tortured with flat-nose pliers, demanding to refuse the deputy mandate. The victim suspects of commission of this attack of activists of Odessa "Right Sector" and, allegedly, he even recognized in one of attacking the head of this organization Sergey Sternenko.