On Friday, August 12, in Kiev employees of the State Office of Public Prosecutor have detained the man who carried out shadowing their employee.
About it on the page on Facebook I have written a press - the secretary of the Attorney-General Larisa Sargan.
«Investigators of the Prosecutor General's Office have found a stationary post of observation to the address - Simon Petliura St., 7/9 which carried out removal of information on actions of prosecutors. After attempts of clarification of the identity of these persons to the scene there have arrived the special troops of NABU which interfered with fixing of violation of this fact. Carrying out the actions connected with investigation of criminal proceedings on the facts of illegal listening» can regard these actions as counteraction from NABU, - Sorgan has written.
Surname of the investigator of GPU it is revealed on a note among things of one of detainees.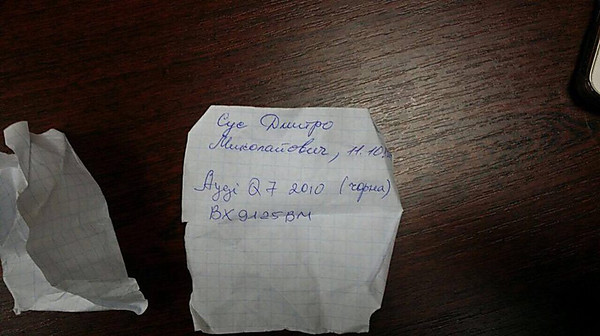 In a note the surname of Dmitry Sus who is included into department of GPU on investigation of especially important issues in the sphere of economy which is called department "Kononenko - Granovsky" is specified. Sousse came in NABU to search in a question of listening. Sousse processes case in the relation ex-the deputy Genprokuror of Vitaly Kask and at night before Franco's theater read to him suspicion.
However later the post a press - the secretary of GPU Larisa Sargan has been removed.
At the same time in a press - service NABU "To Ukrainian Pravda" have reported that "NABU doesn't carry out any investigative actions".
"On all actions the sanction of court undertakes. Details about an incident about which Larisa Sargan at the moment writes become clear. At the same time there is no official information on the website of GPU on this matter yet", - Darya Manzhura has told.
We will remind, on August 5 it is investigative - task force of GPU I have carried out a search at office of NABU on the case of illegal listening by employees of NABU of telephone conversations.