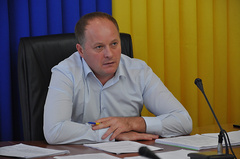 The assistant to the head of the Nikolaev regional council Yury Ipatenko, working as the chief department of questions of ensuring activity of the management of regional council, receives 60 thousand hryvnias a year, without having at the same time a study and without being for work.
About it during the meeting of the constant deputy commission on questions of regional development, planning, the budget, finance and investments on Friday, the head of the commission deputy of fraction has declared September 9 «Petro Poroshenko Bloc «Solidarity» Fiodor Barn.
- I have submitted the application–to dismiss immediately. Otherwise I will be forced to address to law enforcement agencies. I have made request: he works or not. Works as the chief of staff (the chief department of questions of ensuring activity of the management of the Nikolaev regional council, - PN), his duty regulations, in them it is specified about five years of an experience in local governments. He in the autobiography has told lies that he worked five years as the deputy head of Novodessky city council. He didn't work. At work doesn't appear, he has no office. And at the same time gets an award in five thousand hryvnias monthly. I have asked what documents I developed what work I have done. I was answered that need for it wasn't that wasn't attracted, carries out orders of the head of a regional council. Well, I don't know, can in shop behind bread runs…60 thousand a year, - I have declared Barna.
We will remind that earlier the assistant Moskalenko has self-willedally occupied the land plot in Nova Odesse also has to for him to the state about half a million hryvnias.