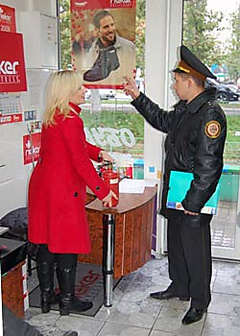 Recently over all country there was a difficult situation with fires on objects with mass stay of people, namely in the markets. 2009 didn't become an exception. Almost across all Ukraine the trade pavilions located in the markets repeatedly burned.
We repeatedly heard about these terrible fires from a news. In one cases managed loss of property, in others there were loss of human life.
In 2008 the Nikolaev rescuers 3 times left on elimination of fires in the markets, and in 2009 1 fire of trade shop in the market was recorded. It would be desirable to remind that the market is that place where in a certain time of day there is a large number of people and, in case of any emergency situation, consequences can be unpredictable.
Annually employees of the state fire supervision of GU Ministry of Emergency Situations of Ukraine in the Nikolaev area carry out inspections, both the markets, and the objects of trade located in their territory. Their purpose - to check implementation of requirements of fire safety and not to allow emergence of fires.
With 1-го October until the end of November checks of the markets of the city of Nikolaev and area will be moved. The first month of raids ended. Unfortunately, during the carried-out inspections of the inspector of fire supervision revealed numerous violations of the rules of fire safety, for what a number of heads and officials were brought to administrative responsibility.
Violations characteristic for all were revealed: on objects it is ignored implementation of requirements of fire safety, the fire-prevention mode isn't observed. The administration of the markets doesn't own elementary skills of actions at a fire. In some shops outdated or absolutely there are no primary fire extinguishing means, rooms aren't equipped with installations of fire automatic equipment, is in failure condition or absolutely there is no external and internal fire-prevention water supply.
Not less painful problem of the markets are passes, emergency exits, steps, warehouse. Everywhere there has to be the maximum order. They can't be encumbered with boxes or furniture.This widespread violation in shops where from - for economy of a place of a box with goods quite often stand in passes between racks. Emergency exits in working hours have to be open. Doors on ways of evacuation of people have to be slightly opened freely and in the exit direction from the building. Pressing question - not observance of fire-prevention gaps between booths, constructions and buildings, the device of combustible coverings over passes between ranks that can promote fast distribution of fire in case of a fire.
Observing the requirements of fire safety provided by the legislation, it is possible to avoid a fire, thereby to keep material values, and maybe someone's life.