Today inhabitants of the suburban settlement of Vakulentsa that near Poltava, discuss one news - resonant road accident with participation of the player of local football club "Vorskla".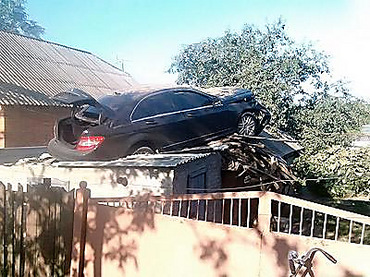 As reports "Komsomolskaya Pravda in Ukraine", in the report of road accident of this accident it didn't appear, crew of the Ministry of Emergency Situations for a car raising too didn't cause.
"I woke up from noise and strong music, thought UFO. At once I ran out on the street, and here the car on a shed weighs. It is good that uninhabited construction suffered and if the house", - the hostess of the house 70 - summer Nadezhda Pashko wipes tears.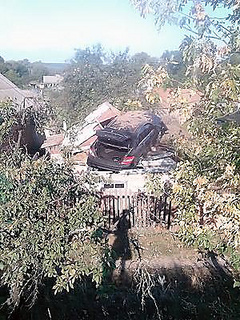 Neighbors too ran together on noise, wanted to help the driver to get out, but he was off and away … Registration plates disappeared also. People crowded near Pashko's house till a dinner, and then the car of FC "Vorskla" drove with the crane. Neither GAI, nor "fast" wasn't noticed.
"KP" managed to learn that one player of "Vorskla" has black "Mercedes" - 24 - the summer halfback Denis Kulakov. That it did at three o'clock in the morning here, with what speed and in what state went, it wasn't succeeded to learn yet. Absolutely nearby there is a training base of club.