From January 12 to January 26 I passed in Sochi 20-й the international festival of the KVNs teams. On it the Nikolaev Easily and Simply team submitting to NF of Ukraine university achieved the real success.
Actually it wasn't so easy, and it isn't so simple - to raise a smile upon the face of usually unperturbable "founding father" of kaveenovsky movement Alexander Maslyakov and a tear of laughter of editors of the highest league.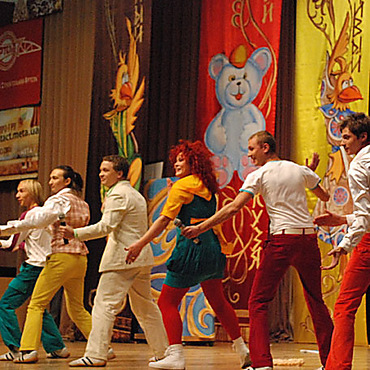 Especially as competitors at our team in this "ridiculous" business at a festival was enough: more than 500 teams from all over the world gathered in the capital of future Olympic Games that to make laugh others and to prove itself - not the last supposedly in this company cheerful and resourceful.
- Among hundred teams to provincial collective "poteryatsya" was as easy as shelling pears, - the director "Easily and simply" Galina Shchetinina speaks. - But literally from the first dance business is that is called trite. Children caught spirit: synchronism of execution, cheerful miniatures, musicality removed our team in favourites of a festival.
Audience was delighted with the parody to Nastya Kamenskikh and Potap, executed by talented and organic Yulia Motruk and Anatoly Dyshlyk, with "physical education teacher" (Victor Sevlisyan), and a grief - racing drivers on "Tavriyakh" (Sergey Sigida, Pavel Kizilov, Evgeny Kosnikovsky and Alexander Solovey) caused a storm of the applause muffled by explosions of laughter in a hall. Deprived, fortunately for the audience, any "sharp" political moments performance of our command for "life" subjects, "hunting and fisheries", proved that with humour in Nikolaev - a full order.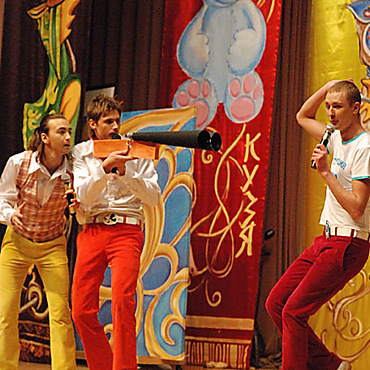 The Nikolaev KVN players gathered only a year ago: three little girls and seven guys, the majority - students of Ukraine university. Sing, dance, reprises compose - by means of the general "brain storm" and under the leadership of the captain Sergey Melnikov. "There are in KVN such "specialtechnologies" helping quickly to strain brains, - Galina tells. - KVN is a collective game, in it it is important not only feeling of comradeship, but also "agreement of opinion".
Result of the Sochi festival:the Easily and Simply team was a part of the highest Ukrainian league of "AMIK" about what her members were reported by Alexander Vasilyevich Maslyakov. Whether it is necessary to say, what to pleasure and happiness there was no limit? Them with "It is easy and simple" those who helped team adequately to act in Sochi - a network of the Gippo supermarkets divided, the director of a recreation center of "Zorya" Yuli Zakharov, the director of shopping Mall NIS-TV Vitaly Mekheda, the rector of NF of Ukraine university Lyudmila Matviyenko, the head of department of youth policy of the Executive Committee of the City Soviet of People's Deputies Vitaly Voronov.