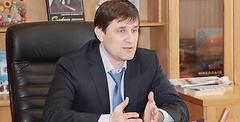 In Donetsk day 3 March during the seizure of the regional state administration of protesters attacked the ex-Governor of area Andrey shishatskiy.
It is reported by channel «Donbass» on his Youtube page.
So, the footage shows a group of people, among them people with the Russian flag in his hands, and beat former Governor of Donetsk region Shishatskiy.
According to the TV company, beat it from the attackers, interferes with the police and the special forces of the security service of Ukraine covers of his departure.
As is known, today the building of the Donetsk regional Council were captured by a group of Pro-Russian activists, who declared about the illegitimacy of Kyiv and declared himself the new authorities in Donetsk region.
Let's remind, that on March 3, Donetsk regional Council shouts of «people's Governor» voted for the referendum on the status of Donbass.