On March 27 there was a joining of two sites of a protecting sea dam on pine-forest part of the mouth Fast. We will remind that a protecting dam on the mouth Fast - one of more responsible components of the project of renewal of navigation on GSH Danube - the Black Sea on the Ukrainian site of Danube. About it reports a press - serviceGP "The Delta — the Pilot". This enterprise is the customer of works on the project.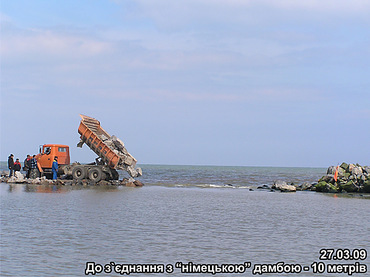 One of sites of a protecting dam was constructed in 2004 by the German company "Joseph Mobius", its length makes about 400 m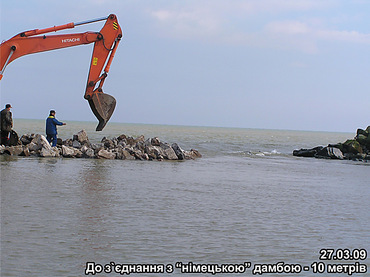 Other site of a dam is constructed within the last 5 months by the Azovmekh company, and on March 27, at the time of joining, - its length made 1670 m
"The last 100 meters before connection were given us hard", - toомментирует event director of GP "The Delta — the Pilot" Alexander Golodnitsky. -Because the place of joining is almost on the Danube Current axis, the there was a distance to the "German" site less, the speed of a stream which went through a hollow amplified more strongly. But we consulted, and works on strengthening of this site of a damare now continued".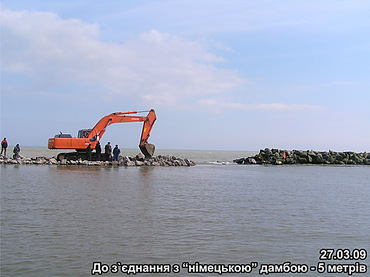 On March 27 there was a connection with the "German" dam that provided full overlapping North - east hollow.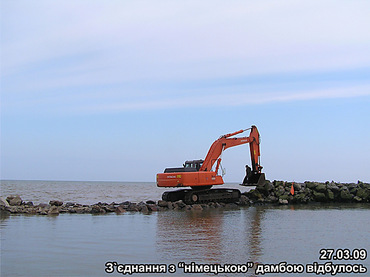 After full completion of construction of a dam its length will make 2830 m, but the site of a dam more than 2000 m long constructed for today already significantly protects the sea approach channel of the mouth Fast from alongshore sea currents and a deposit, reports a press - service GP "The Delta — the Pilot".