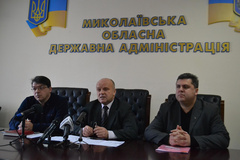 In Nikolaev housing and communal services Department don't agree with actions of employees of OKP «Nikolayevoblteploenergo» , which come to apartment houses, twist «on at most» gates also seal up heat meters, including it abuse of authority.
It was declared by the acting director of the department of housing and communal services Andrey Palko during a briefing on Friday, February 19.
So, chief engineer of OKP «Nikolayevoblteploenergo» Vitaly Borodin reported that cranes which they seal up, aren't heat regulators.
- To install the metering device, there has to be a project documentation of metering station of thermal energy which prepares proceeding from specifications which are given out by the heatsupplying organization. It is project documentation not simply on installation of a heat meter, and on metering station which part the metering device, shutoff valves, manometers, thermometers is. At once I emphasize: intervention in work of knot of the commercial account is forbidden by rules of technical operation of thermal installations. Respectively, cranes which are in knot of this account are not regulating, and technological. In such plan: there was from a system a metering device in a heating season, it needs to be removed and sent for extraordinary check. These cranes are closed, the device is removed, the pro-rate is put, heating that the house didn't stop in work is started further and received further heat. The device from check came - closed, established, back started. Here for what these cranes serve.
He also noted that for last 5-7 years the attention wasn't paid to it.
- Yes, it was uncontrolled and we closed to it eyes. But this year we went on the way. Because at us was as: on the one hand, pay much - we regulate, on the other hand, there are many complaints when goes недотоп and residents of extreme apartments freeze and don't receive heat. Therefore to bring an order, this year we made the decision that all knots of the commercial account have to be sealed up: not only heat meters, but also technical latches.Because how many we don't address, residents or responsible for the metering device try to interfere with work of knot of the commercial account. Therefore if it is necessary, we will attract police to get access to the cellar, and all cranes will be sealed up, - the chief engineer declared.
In addition, he reported that there are other ways of adjustment of heat.
- It is called individual thermal point. There special fittings, the special controler, the valve, which depending on the indication of sensors - one room, one external air–are installed works automatically. They should be established in addition. Today we conduct negotiations with housing and communal services. I think that after we will finish installation of devices of the thermal account, we will pass to implementation of the draft of individual thermal points. Part of these works are provided too in this contract on the credit of the World bank. That is on the Ship area such thermal points under the contract with bank are already provided. On other objects in connection with the law which eliminates ZhEKs, and we move to OSMD and management companies, most likely these all metering stations of thermal energy will pass to our balance and we, teplovik, most likely, proceeding from Postanova No. 869 as we are the supplier of service, we will take knots on balance, thermal counters and experts will be engaged in installation of individual thermal points and adjustment of the thermal carrier. It will be in the automatic mode because only automatic equipment can accurately adjust a heat carrier stream on this or that building, - Borodin explained.
The acting director of the department of housing and communal services Andrey Palko objected the chief engineer, having reported that «Nikolayevoblteploenergo» I exceeded the authority.
- Latches which go not in metering station, can't regulate so giving of heat as they are for this purpose not so intended as what are in knot. Therefore the only option which people used, - latches directly on the metering device. I can't agree with opinion «Nikolayevoblteploenergo» , but the enterprise is not the city municipal enterprise, but regional therefore the city of Nikolaev can't specify to the enterprise these or those actions. But we consider that in actions «Nikolayevoblteploenergo» at the moment there is a certain excess of the powers with which we don't agree.We tried to find the compromise solution with the enterprise that, considering a rise in price of energy carriers which are at the moment, the blow to the family budget wasn't such strong. Unfortunately, I at the moment don't see this compromise. Therefore we prepared the corresponding appeal to Antimonopoly committee and Society of consumer protection, to the governor of the Nikolaev area for the purpose of determination of legality of powers «Nikolayevoblteploenergo». Because, on the one hand, there is certain legal basis for carrying out these works, but in some positions, I am sure, it would be possible to reach compromise until installation of individual thermal points, - he declared.
The head of department zhilishchno - municipal services of the Nikolaev RSA Evgeny Gladkov I noted that the counter is initially calculated on certain parameters, accounts according to thermal control. Also he emphasized that similar actions lead to disbalance of intra house heating.
- Residents have to unite, leave to the yard, tell that to them hot and to ask all this to close, to tell: we will save. And if they want to regulate further, it is necessary to think, what way, in a civilized way. For their control ( «Nikolayevoblteploenergo» - PN) activity exists special body - Inspectorate of Gosenergonadzor according to which conclusion of their action admit correct and don't contradict the current legislation, - Evgeny Gladkov reported.
In addition, he added that the aspiration to economy has to be, but due to replacement of windows, warming of roofs, cellars, the base, entrance doors, a termosonation and regulation of the concrete heating device.
We will remind, earlier in the publication of the journalist Andrey Lokhmatov it was reported that in different houses of the different districts of Nikolaev in different days residents found out that all gates on a heat meter are twirled «on at most» also OKP are sealed up «Nikolayevoblteploenergo» without notice. And former director of OKP «Nikolayevoblteploenergo» Vladimir Bereznitsky explains similar activity of the present management of the enterprise of desire «to pull out» it is as much as possible money from the population, that «to close» multimillion losses of the enterprise, «gathered» for the last year.