After to all Ukraine has thundered loud detention the first deputy head of the Nikolaev RSA Nikolay Romanchuk on a bribe have also appeared photo from a search four houses of his family, many didn't believe in what found at vice-the governor is the truth. Doubts that the first deputy of Merikov has really dug tunnels and I have connected them possession of the family, tormented many. Residents of Nikolayev said that except Matios's photo there are no proofs to that «treasures» Romanchuka exist. Nikolay Romanchuk has declared what in his houses was in total
-... three dirks and the antiques weren't there. There was a gun - the model - a lighter, more there nothing was. Gold ingots weighing twenty grams are when I was 50 years old, the labor collective has presented to me on birthday.
It is obvious that when Nikolay Romanchuk was arrested on a bribe, Sbushniki not everyone has published photos found. More detailed information about «riches» Residents of the country could recognize the hero of Ukraine from published definitions Seaside district court of the city of Odessa about seizure of property now the detached first deputy head of the Nikolaev RSA. One–follows from what was included in the list of the arrested Romanchuk's things personality he versatile.
Edition «Crime. Is NOT PRESENT» for simplicity of perception I have analysed what was stored in Romanchuk's vault and I visualized found «treasures» vice-the governor and his family.
So, among things which have been found by Sbushnikami there were ancient books, icons, antiques, ancient and anniversary coins, the weapon, gold ingots, piles of documents, information on bank accounts, elite alcohol…The list can be continued and continued as all inventory of what has been seized, has gone in on nine sheets A4.
It has turned out that Nikolay Romanchuk is the judge of elite alcoholic drinks. Tell 19 bottles of strong alcohol about it.Were stored in his tunnels chacha, Jim Beam (4,5 l), brandy, Chivas of 12-summer endurance (3 bottles), Chivas of 18-summer endurance, Jack Daniels (2 bottles), Macallan, Glenmorangie, Arran, Gentleman, Jack Armagnac, Frapin, Camus, Martini Asti (6 liters) and Ballantine's.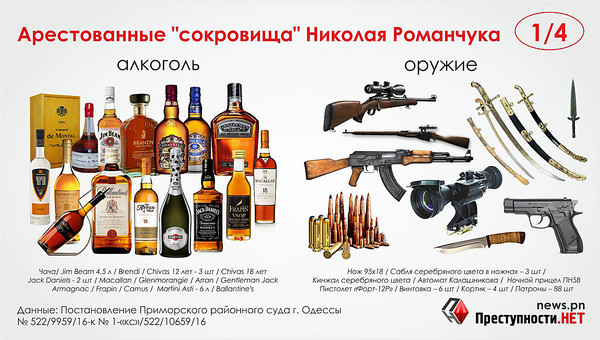 In the list of the weapon which was gathered by Romanchuk - 4 dirks, cartridges for the gas revolver - 6 pieces, bullets in caliber 7,62kh39mm - 7 pieces, cartridges with elastic bullets (nonlethal action) of caliber of 9 mm - 31 pieces, 2 packings of cartridges of 7,62х39 mm - 40 pieces, cartridges of caliber of 7,62 mm - 4 pieces, a knife 95х18–1 pieces, saber of silver color in a sheath–3 pieces, dagger of silver color–1 pieces, Kalashnikov–1 pieces, gun «Fort - 12P» , rifles–6 pieces (model 9200 No. SF 8069 (USA), No. H8978 L_EFERER model, the BA_KAL No. 8811513, No. 87035882 model, No. M66459), product 1 PN58 (the night shooting sight intended for supervision over a battlefield and an aiming at shooting with submachine guns, a machine gun, the grenade launcher and a sniper rifle).
In two houses of the wife of Romanchuk have found a large number of jewelry, namely: gold clips for a tie–5 pieces, brooches–10 pieces, rings–16 pieces, gold necklaces–4 pieces (one of them weighs 9,42 grams), bracelets–7 pieces, cuff links–10 pieces, chains–23 pieces, pendents–17 pieces, crosses–2 pieces, earrings–42 pieces, hours - 10 pieces.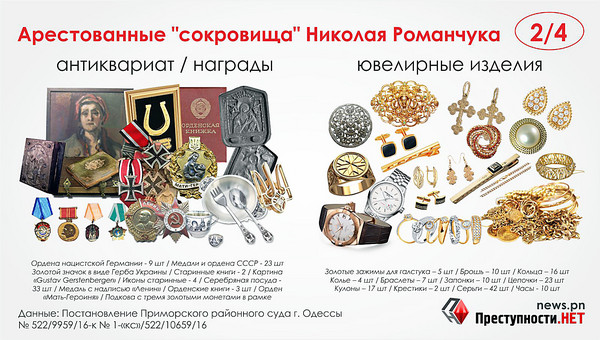 In addition, Romanchuk stored antiques, awards and medals in the tunnels. So, at him have found awards of nazi Germany - 9 pieces, medal books - 3 pieces, medals and the awards USSR - 23 pieces, an award «Mother is the Heroine» , a gold badge in the form of the Coat of arms of Ukraine–1 pieces, ancient books - 2 pieces, a picture «Gustav Gerstenberger» , icons ancient–4 pieces, medal with an inscription «Lenin» , a horseshoe with three gold coins in a frame.
Also the equipment at which worked as Romanchuki has been arrested: gray and white «IPad» , HP 635 laptop, black laptop «Samsung» R560, gray «Nokia» 1280, gray «IPhone 6» , four USB sticks, hard drive Seagate s|n 5VPD5GKF.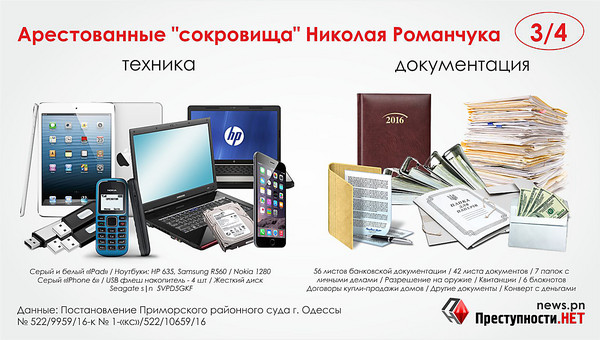 Obviously the fact that Nikolay Romanchuk is the responsible person and he had everything «under a pencil».The fact that at him 56 sheets of bank documentation, 42 leaves of documents, 7 folders with personal records, the weapons permit, receipts, 6 notebooks, contracts of purchase and sale of houses and other documents were revealed demonstrates to it.
It should be noted that the first deputy of the Nikolaev RSA part of the «treasures» stores in gold. In total his gold ingots weigh about 400 grams. So, have found in vaults: gold ingot weighing 20 grams «Ramr» , gold ingot weighing 10 grams «Umicore» , gold and a bar of silver in the form of boxing gloves - 3 pieces in a case, a gold ingot weighing 10 grams «Degussa» , gold ingots weighing 5 grams - 4 pieces, a gold ingot weighing 1 gram, a gold ingot «8 dollars» No. 00268, gold ingot weighing 250 grams, gold ingot weighing 50 grams with tiger drawing, a gold ingot weighing 5 grams.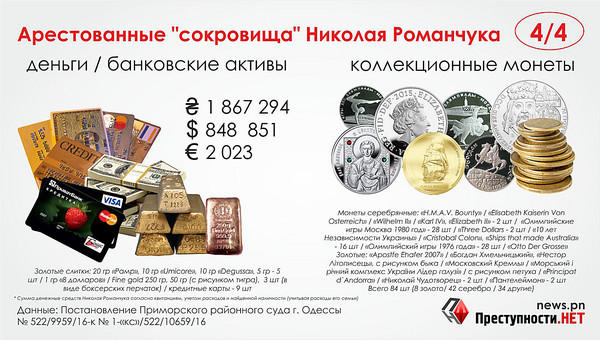 In total on Nikolay Romanchuk's accounts on receipts which have been found in him, considering all expenses of his family and found «hard cash» , it has been revealed 1 million 867 thousand 294 hryvnias, 848 thousand 851 US dollars, and also 2 thousand 23 euros.
At the same time Romanchuk was also a numismatist. At him have found 84 coins at once. Silver: «H.M.A.V. Bounty» , «Elisabeth Kaiserin Von Osterreich» , «Wilhelm II.» , «Karl IV» , «Elizabeth II» - 2, «Olympic Games Moscow 1980» (28 pieces), with drawing of the ship «Three Dollars» , «10 years of Independence of Ukraine» , with drawing of the ship «Cristobal Colon» , «Ships that made Australia» - 16 pieces, «Olympic Games of 1976» - 28 pieces, «Otto Der Grosse» , 10 silver coins. Gold: «Apostfe Ehafer 2007» (gold), «Bogdan Hmelnitsky» , «Nestor Літописець» , a coin with drawing of a bull, «Moscow Kremlin» , «Morsky і r_chny complex Ukra§ni L_der галуз і» , a coin with drawing of a rooster, «Principat d'Andorra» , «Nicholas The Wonderworker» - 2 pieces, «Panteleymon» - 2 pieces
Here not all list of what has been arrested at Nikolay Romanchuk is provided. The fact of that whose surnames appear in documentation discharged of a position vice-the governor is also interesting. It isn't less curious to learn also the one to whom money which has been spread providently out in envelopes intended.Interestingly, on what the result of a consequence will shed light and whether will be called all involved in corruption scandals of the Nikolaev RSA?
Worked on material: Aleksandra Vyaznikova, Yulia Pismennaya (analytics), Tatyana Vyaznikova (visualization), Vadim Bogdanov (proofreader) especially for «Crime. Is NOT PRESENT».