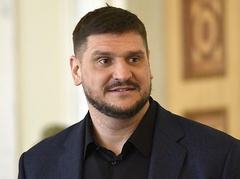 The People's Deputy of Ukraine Alexey Savchenko who became a winner in a competition on holding the post of the head of the Nikolaev RSA was included in the list of people's deputies who have declared the greatest income for 2015.
It is stated in article of "Ukrainian Pravda" "Pockets inside out. Rich deputies of Rada", where declarations of the Ukrainian people's deputies are analysed.
So, Alexey Savchenko for 2015 has declared 41 million 499 thousand hryvnias of the income I have also taken the fifth place among all people's deputies of the VIII convocation I LIE.
The greatest income among deputies of the Verkhovna Rada in 2015 was gained by the chairman of the parliamentary Vidrodzhennya group Vitaly Homutynnik who I have declared 166 million 752 thousand hryvnias.
Ten the "richest" deputies on the income looks so:
1. Vitaly Homutynnik (Vidrodzhennya) - 166 million 752 thousand UAH
2. Igor Kotvitsky (Popular front) - 66 million 774 thousand UAH
3. Fedor Negoy (PPB) - 44 million 60 thousand UAH
4. Gennady Bobov (Vidrodzhennya)–41 685 905 UAH
5. Alexey Savchenko (PPB)–41 499 031 UAH
6. Mikhail Poplavsky (Vidrodzhennya)–40 807 881 UAH
7. Tatyana Donets (Popular front)–40 349 817 UAH
8. Gleb Zagory (PPB)–39 662 072 UAH
9. Denis Dzenzersky (Popular front)–35 074 950 UAH
10. Alexander Onishchenko (Volya of the people)–33 155 370 UAH
Separately It should be noted that on bank accounts Alexey Savchenko, according to his declarations, has 242 million hryvnias.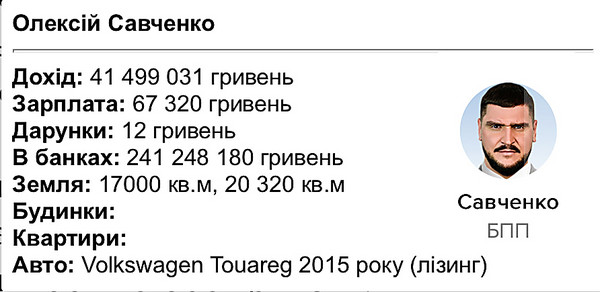 We will remind, earlier it was reported that the tender for a position of the governor of the Nikolaev region was won by the people's deputy from the PPB Alexey Savchenko.