Today in the downtown - in the yard on Shevchenko St., 64-A, being scandal happened the public yard and for inhabitants of the house No. 67 on Potemkinskaya St.: the group of inhabitants of the first house tried to prevent establishment by neighbors... playground.
At the time of arrival of our correspondents to the place of the conflict, scandal reached the peak therefore the first attempt to receive the comment at opponents of a kind initiative wasn't crowned with success: us inconsiderately called bad words and sent... to hell, at all without having presented.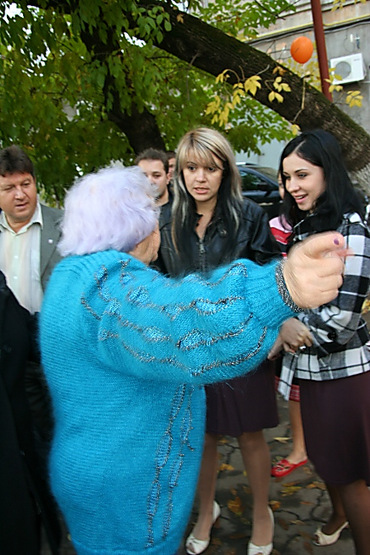 However thanks to it we could receive very detailed explanation of the second party of the conflict. It appeared that initiators of installation of a playground among whom were both inhabitants of the house No. 64 on Shevchenko St., and inhabitants of the house No. 67 on Potemkinskaya St., financially supported people, whose objects of business activity are located in the neighbourhood with these houses. It is a pizzeria "Dykanka" and the Jeweller center "Diamant". "Simply years are at war with owners of these institutions separate group of residents of the house No. 64 with Shevchenko St. three, and that they and this time solved обгадить such good business, anything surprising isn't present. Simply you see: on a place where today put a playground, there is a marking paint - here opponents of a platform suited themselves parking, and, without any allowing documents, and raise in a month from the residents having cars, from 150 to 250 hryvnias. And if who from the visiting wants to leave the car, depending on model of the car take from 20 to 50 hryvnias. And thus anybody doesn't issue any receipts to anybody. " - one of women almost in a whisper explained.
Probably, watching activity of the opponents, "opponents" of a playground as decided to state the point of view.
"It is our yard, and they want to take away it from us. We against this platform. Yes, we suited here parking. Well and what? ! What documents? ! We here live, and all! And we put cars where it will want to us" - blurted out on one breath these words the woman, flatly it refused to be represented.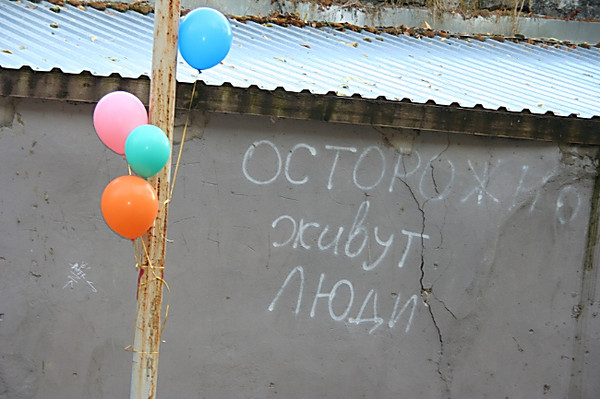 But another - Rimma Nikolaevna, quietly explained: in the territory of their yard under a playground other place - in depth is taken away absolutely, near a shed with an inscription "Carefully there live people" which neutral and for which demolition in a judicial order the group of residents of her house (No. 64-is now and) 4 years are at war. On a question, whether the present parking in its yard paid is, the woman answered in the affirmative, having added that for the raised money is paid work of the yard keeper and security guards. Without assignments everyone there on taxes. "I give 150 hryvnias from the pension for protection of the car - what else taxes, tell? " - the woman was surprised. But right there I made a reservation: "It not parking - simply for the night we here leave our cars". The second representative, Tatyana Arutyunyan, having connected to conversation, I told: "At us is in the house of 89 apartments, and children - to 10 people. And those whom you saw at this playground though it it is impossible to call that, - them simply brought to arrange show, as well as students. We since 2003 sound alarm in the Executive Committee of the City Soviet of People's Deputies that from us systematically take away the yard, but is useless.... We have a "Justice Which Chairman Is Companion Berislavsky, I at It — the Deputy, and All of Us Will Equally Continue Fight" association. She added that they will achieve demolition of this platform also in a judicial order.
But the most interesting happened to be heard at the end. According to representatives of jewelry store, in the territory of the public yard on last week green plantings, and only in time the arrived militia were demolished prevented final destruction of trees.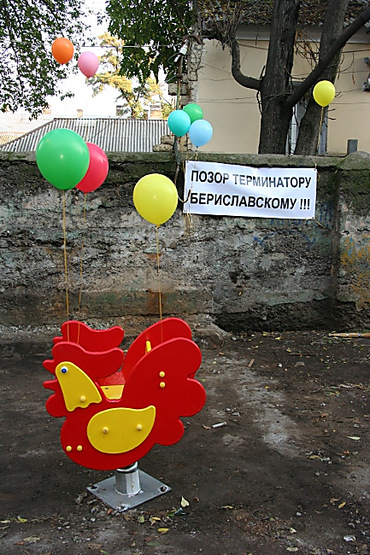 "The part everything is took down, but two trees remained. We addressed in nature protection prosecutor's office and in the Central regional department of militia to stop created lawlessness. Thanks to intervention in a situation of representatives of these structures, excess it was stopped. And the last: on a place where today established a playground, last year too there was a platform from metal designs. But last year it disappeared in the unknown direction People say that someone intends to construct here covered parking, to select the territory of the general yard at other people, to steal from our children a place in the sun" - Eduard Dzhumazhanov told.
Who is right and who is guilty in this history - will show time.