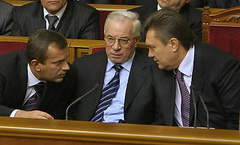 The European Union adopted a decision from March 6 to freeze accounts dismissed by the Verkhovna Rada from the post of President of Ukraine Viktor Yanukovych, his sons Alexander and Victor, ex-Prime Minister Mykola Azarov and his son Alexei, the brothers Andrei and Sergei Klevyh, ex-Prosecutor General Viktor Pshonka and his son Artem, businessman Sergey Kurchenko.
This is stated in the decision of the EU Council, transfers RBC-Ukraine.
«Considering the Treaty on the functioning of the European Union, and in particular article 215, whereas the decision of the Council 2014/119/CFSP of 5 March 2014, concerning restrictive measures directed against certain persons, in connection with the situation in Ukraine, taking into account the joint proposal of the EU high representative for foreign Affairs and security policy and the European Commission... all funds and economic resources belonging to, owned or controlled by any individual or legal entity, as indicated in Annex I, must be frozen,» - noted in the decision.
Annex I contains a list of 18 people. In addition to the above, it also includes: ex-interior Minister Vitaly Zakharchenko, the former head of the SBU Oleksandr Yakimenko, ex-Deputy head of Administration of the President Andriy Portnov, the ex-Minister of justice Elena Lukash, the former Deputy Minister of internal Affairs Victor Ratushnyak, ex-Minister of education and science Dmytro Tabachnyk, the former head of the health Ministry Raisa Bogatyryova, a former adviser to Yanukovych Igor Kalinin.
As previously reported, the European Union decided to introduce visa and financial sanctions against the perpetrators of the application of incredible violence in Ukraine.