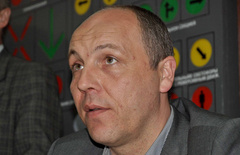 The secretary of the National Security and Defense Council Andriy Parubiy believes what exactly now it has to be created «anti-Putin coalition» states.
About it he wrote in the blog on «To the Ukrainian truth».
«In March, 1938 Hitler on «to request» nazis of Austria entered armies into this country and I started preparing a referendum actively. By results «free will» more than 99% of respondents expressed desire to unite with the Reich.

Appetites of the dictator grow, and he starts inciting Sudetsky area of Czechoslovakia. The Germans living in this area, start demanding holding a referendum on an expanded autonomy and the rights for German-speaking citizens. Thus there are armed disorders. Hitlerite armies become at borders of Czechoslovakia. All this ended with occupation of the Sudetes and World War II beginning.

Having reviewed the troops in Vienna after an anschluss of Austria, Hitler didn't meet system resolute counteraction from the world community. All hoped to avoid war. It wasn't possible».
«In 76 years Putin carried out an anschluss of the Crimea, reviewed the troops in Sevastopol and sent terrorists to Donbass to hold a referendum» , - Parubiy of a parallel in the blog will see off.
The secretary of the National Security and Defense Council believes that «the world still has a chance» , and for this purpose the anti-Putin coalition has to be created now, instead of «during the Third world war».
We will remind, being in Nikolaev Andrey Parubiy declared that Russia wages against Ukraine non-standard and cynical war.