On March 18 in Odessa hoisted the national colors of Ukraine on the new pilot boatGP "The Delta — the Pilot" "Fast".
The deputy minister of transport and communication of Ukraine took part in a solemn raising of a flag -head of State department of sea and river transport Vladimir Rabotnev, directorGP "The Delta — the Pilot"Alexander Golodnitsky, chief of GP "Odessa Seaport" Nikolay Pavlyuk.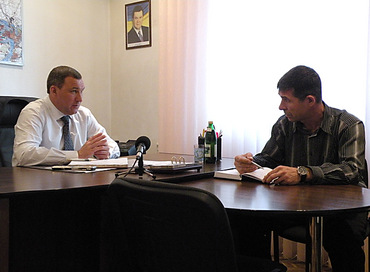 "The today's event is the next step to revival of Ukraine as sea state which applies for a special role in eurotransport corridors. And that is main. that the state system of safety of navigation grows stronger", - emphasized in the performanceVladimir Rabotnev.
The deputy minister of transport and communication of Ukraine noted: "State enterprise"The delta - the pilot"not only carries out vessels and regulates movement. It builds channels. The Danube channel - the Black Sea is today completely on enterprise shoulders".
According to the director of GP "The Delta — the Pilot"Alexander Golodnitsky, the new pilot boat significantly filled up enterprise fleet. "There is a deficiency of specialfleet. Since 2001 it was acquired only 6 new pilot boats. The majority of vessels work for 20 years. Therefore "The delta - the pilot" developed the program of updating of fleet of pilot boats", - Alexander Golodnitsky told.
He also noted that "Fast" - only in Ukraine the pilot boat which answers the European standards of automation of management and safety of disembarkation of pilots. The boat will serve pilot conductings in the Odessa seaport.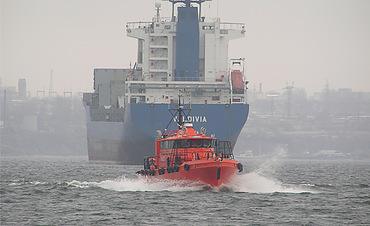 During a celebration on a raising state to a flag, the boat "Fast", by orthodox tradition, was consecrated.
Reference:the boat "Fast" of the Baltic-180 type of production of shipbuilding plant "Baltic Workboat AS" (Estonia) was acquired by GP "The Delta — the Pilot" at the end of 2008.
The vessel is constructed according to modern European standards which allow to operate its long time practically without maintenance.
The captain Victor Tomachinsky told that during vessel tests in the water area of the Odessa sea trade port, it proved to be as the powerful maneuverable pilot boat.
Length of the case is 19,7 m, the maximum speed - 21 knot, engine capacity - 1200 к.с. The case is made of aluminum that allowed to reduce the mass of a vessel twice.
The new boat is almost silent. The cabin is established on rubber shock-absorbers that reduces noise level from an engine room.
The vessel is well adapted for work during the winter period. The heating of seats, mirrors, handrail, decks won't allow them to freeze that ensures safety of movement of pilots during disembarkation to a vessel.
The boat "Fast" underwent necessary procedures of registration and certification and has classification and operational documents of the Register of navigation of Ukraine.