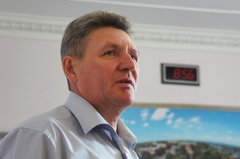 At a position of deputy directors of KP «Nikolayevoblteploenergo» on request of the assistant to the chairman of the Nikolaev regional state administration Yaroslav Filatov two persons who try to be engaged in withdrawal of funds from the enterprise now were entered, force employees to do kickbacks and to deribanit property.
About it «Crime. Is NOT PRESENT» the director of the enterprise Vladimir Bereznitsky declared.
According to him, two months ago at insistance of a certain assistant to the governor of the Nikolaev area by the name of Filatov, he was compelled to employ for a position of the first deputy of KP certain Pavel Shpak. The reason of it as explained to him was that, allegedly, the administration has to know that occurs at the enterprise. In two months to Bereznitsky one more offer - to employ as one more person, a certain Igor Radchenko, to a position of the deputy director for sale arrived. At the beginning the director of KP «Nikolayevoblteploenergo» I refused to do it.
- As a result I received the written order about need to employ as one more deputy…These people who are employed on our enterprise, according to that information which I have, and that information which is carried to me by my colleagues, are engaged not in absolutely plausible actions in the part discrediting image of our regional municipal enterprise. In what it consists? We will speak in clear - in extortion from our suppliers on acquisition, performance of work with customers: either this asphalting, or acquisition of the pipes, this some insurance, some as speak in the press, kickbacks of 10%, 20%, 30% who how many can. When people approach me and say that same your deputy, you is aware of business! I speak–I don't know about it, and it is unpleasant to me even to hear it, - Vladimir Bereznitsky speaks.
Besides, according to Bereznitsky, assistants to the governor, in particular Yaroslav Filatov, give it "direct instructions" on in what banks to open accounts, where to transfer money, where not to list...
- That is there is a direct intervention of the management of the regional state administration in activity of the enterprise that isn't provided by neither the charter of the enterprise, nor my contract, to contractual obligations on employment. Namely, there is a clause which says that if the administration will interfere in performance of duties of the director, the head in the right to release a post, that is, to leave. On what I also paid recently attention of the governor that I can't work in this company, I won't be, and to be engaged in any withdrawal of funds from the enterprise doesn't agree, - he declared.
On December 1 Vladimir Bereznitsky, proceeding from the above, submitted the application addressed to the governor of the Nikolaev area for dismissal.
- I wrote the application a little emotional, but there I stated the reasons for which I am not ready to work in that company which to me was defined by the present leaders of area. To work in the conditions of rigid regulation, manual control of administration I don't agree. I don't stipulate preservations of as the director, I lay down a condition, I pay attention of the governor that the enterprise, thus, develops in the unnecessary direction, and the damage of regional municipal property is caused. They (the assistants to the governor put by them deputies, - PN) speak to me–you have to translate there - that money, I don't do it so far, I don't open the account in those banks in which they speak, I don't transfer money for those deposits which they offer. I consider that it is damage to the enterprise, - the director of KP «addedNikolayevoblteploenergo».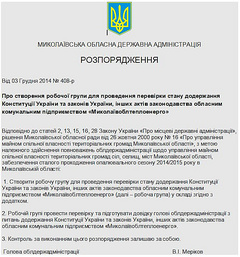 However, instead of allowance of the application or any reaction to it, the chairman of the Nikolaev regional state administration in two days, on December 3, takes out the order about carrying out check regarding overall performance and management at the enterprise «Nikolayevobleteploenergo» , and also about creation of the commission for carrying out this check, about what already earlier it was reported.
It is remarkable that the commission for carrying out check except experts YEAH, employees of UBEP and other structures, on behalf of the enterprise included those two deputies - Pavel Shpak and Igor Radchenko who were appointed to the enterprise for the requirement of the assistant to the governor Yaroslav Filatov.
- The order of the governor about creation of the commission (for carrying out check, - PN) I perceive as a contradiction to those facts, which I as the head, I know, and what I announced in the statement. I not against check, and especially as at the enterprise just recently, two months ago, check during 3 years of a production activity of the enterprise by management of State financial inspection ended, ended check by tax administration of Leninsky district for the last three years 1,5 months ago. We had all supervisory authorities which could be, and as they say, claims to us, special didn't show. To us claims aren't present. But that still guarded me, that I specified in the statement for dismissal for unseemly activity of these two of mine, as they say, workers, experts, it was on December 1. And on December 3 there is an order about creation of the commission which joins the same deputies - to check that was stated in my application, - Bereznitsky noted.
As employees speak «Nikolayevoblteploenergo» , they are guarded with that this check has the results already in advance.
- We aren't afraid of checks, we so much already endured them... But that without having carried out an inspection yet, they already write in the press that not effective work at the enterprise, we understand already in advance what will come check. That is it is possible to write then anything, - employees of the enterprise speak.
Besides, employees of the enterprise also consider that it isn't interesting to Shpak and Radchenko to survive the director and the chief accountant and to sit down to direct because it is responsibility. And Bereznitsky says that him aren't going to release.
- Offered me–work, you in our team, everything is all right, take only the person. And when already it started occurring, and I told that I won't work, to me told–as, you don't want, we will force!–Bereznitsky speaks.
According to him, the similar situation occurs on some other the enterprises in Nikolaev:on «Nikolaev combined heat and power plant» , where also suggested to appoint special experts, to PAO «Nikolayevoblenergo» and on KP «Nikolayevvodokanal» , where already is as Bereznitsky speaks, same «looking».
- Conclusion very simple–that «покращення» , which occurs already today as a ghost flew after the Maidan, and leaves us. And thanks to these actions either which are thought over, or planned, or aren't considered I don't know as, can do it from - for inexperience, but, unfortunately, it is people encourages. And, unfortunately, they conceal those improvements for which we waited after all events in the eyes. Especially it is offensive as it is specified in my statement, against that now is created on Donbass and as children are brought in coffins from there, and here to deribanit property in heat–it, I consider, unworthy, - Vladimir Bereznitsky summarized.
To receive the comment of the chairman of the Nikolaev regional state administration in this occasion «Crime. Is NOT PRESENT» it wasn't possible–yet as reported in YEAH, the governor now in business trip, but on arrival to Nikolaev, he promised to comment on this situation.