The center socially - economic and political researches and the Prospect technologiesI published results of research which was conducted inNikolaevat the end of March. Research subject - "The labor law eyes of citizens".
Research objective was not to learn as far as citizens are informed on the labor law and duties, andto define level of social tension, in other words, as far as the atmosphere in society with approach of an economic crisis became aggravated and worsened.
In total 315 people were interrogated is only those people who work. The error of research makes 5,5%.
By results of research, at 67% (213 people) the labor relations are officially issued. 15,2% are businessmen or owners of business (the self-busy population).
At 14,6% of respondents the labor relations officially aren't issued.
And at all I don't know 2,5% (8 people), whether the labor relations officially are issued at them or not.
Thus it is necessary to consider that many don't want to advertize that their labor relations are illegal and they, respectively, taxes don't pay. And what don't know, lawfully they work or not, most likely, aren't issued as workers.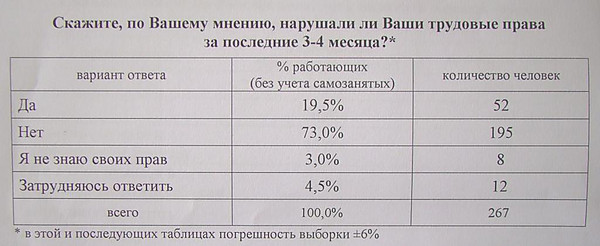 Results of research
The center socially - economic and political researches and the Prospect technologies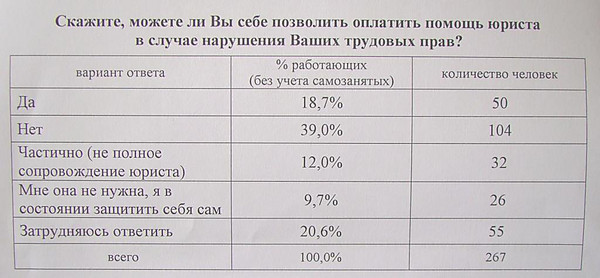 - Every fifth person considers that his rights are violated, - the head of the analytical department and Perspektiva center researches Alexander Ukhmanovsky summed up the research results. - And 70 percent of the population can't pay in a complex service of the lawyer to protect the rights in court. Now there was a kickback by the beginning of 2000. Not the last role in it is played by unreasoned policy of the state which we can observe since the crisis beginning.
The reasons of current situation which results of research showed, the director of the department of work and a social security of the population of executive committee of the Nikolaev City Council Sergey Bondarenko commented:
- Today we haven't enough normative documents which would allow to demand from employers of observance of the legislation. Often the person thinks that if he transferred the service record, he is employed. And actually in any labor relations it doesn't consist. And whenwe as powerwe come to the enterprise with check,we are powerless- we can't find data that it worked.