Soccer. Championship of Ukraine. Second league. Group A.
Before game
After championship renewal in the second league of CSKA, as well as Ternopol "Field", I gathered 18 points. This indicator while is the best in group "A". And after all in present tournament the army team finally lost in Kiev of stadium, and now house matches plays on uchebno - the training Dynamo base in Chapayevke, and also in Borodyanke. Despite it it persistently keeps among leaders and isn't going to give in.
IFC ways "Nikolaev" and CSKA were crossed 17 times. At the Central city stadium soldiers won four times, the Nikolaev football players - three, and one more draw. The meeting of the first circle was won by inhabitants of Kiev - 1:0.
Game
IFC "NIKOLAEV"
CSKA (Kiev)
1
Cholariya
1
Mikhaylov
2
Hlaponin
14
VASILYEV
3
Goncharenko
16
Shpak (86')
5
Okhrimenko
4
Smoking-room
6
Gorobets (78')
10
Sheshenya (61')
8
Veliyev (90+2')
13
Zeldi
13
DOVZHIK
17
Pozdeev (67')
16
Komyagin (90')
19
Krokhmalyuk (58')
7
Belous
6
Tretiak
9
Ротань (87')
15
Tops (65')
10
Krivoruchko (55')
11
Babich
Spare
Spare
1215144181117
Bobko Chaus (90') Shimko (90+2') Lilyk (55') Mozhaev (78') Voytsekhovsky (87') Fisherman
128318197
Levanidov Belov (86') Kislenko (61') Osadchy (58') Eseola (65') Vlasyuk (67')
The head coach -
Mikhail KALITA
The head coach -
Andrey ZAVYALOV
Attendance:On May 16, Nikolaev, Central city stadium, +23о, 3700 viewers.
Arbitrators:D. Kozorezov, A. Kovalenko (both is Odessa), S. Shlonchak (Cherkassy), I. Tokarenko (Nikolaev).
Delegate of FFU:V. Timofeyev (Mariupol).
Preventions:Veliyev (40'), Okhrimenko (57'), Vasilyev (61'), Belous (73'), Lilyk (87')
Goals:Dovzhik (61', foams.) Komyagin (83')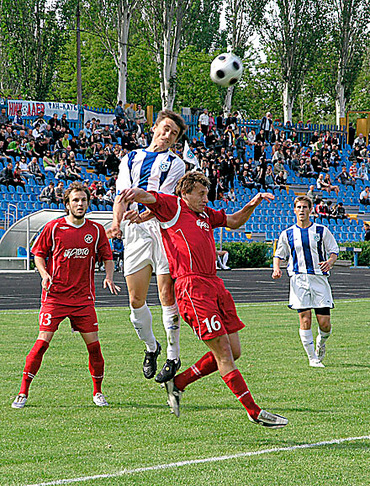 In comparison with the previous match in a starting lineup of IFC "Nikolaev" there was only one replacement - instead of the injured Zhorov there was Krivoruchko.
In the first time the mention only two episodes deserve. And, there were they at gate of the Nikolaev team. On 15-й to minute Krokhmalyuk's blow from a penalty surely was reflected by the goalkeeper Cholariya. And on 31-й to minute Zeldi at a short distance punched too poorly, besides the ball didn't get to a goal mouth and took off out of field limits in meter from a bar.
In the second half game gained other character. IFC "Nikolaev" intercepted an initiative and I organized about ten sharp attacks. Twice Komyagin could cause a stir. In the first case it didn't use a mistake of the defender and an exit in private with Mikhaylov, in the second - the goalkeeper managed to strike away his blow from an acute angle.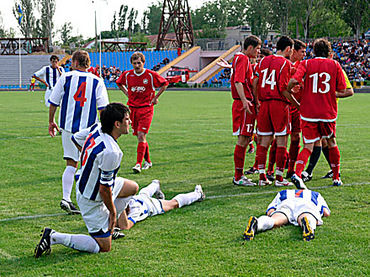 On 61-й to minute when in a penalty area of CSKA a large number of players gathered, after a canopy Rotanya at once three nikolayevets appeared on a lawn, and, one by means of the defender, and the arbitrator appointed a penalty. Dovzhik approached to "point" and 1:0!
On it the heat of owners didn't die away. In three minutes Dovzhik could make "double", but punched near a rack. Soon the captain of IFC "Nikolaev" appeared again on a shock position, however its blow had over a crossbeam.
On 79-й skilled Babich from a penalty sent to minute a ball to a frame - Cholariya played reliably. In reciprocal attack Belous flew on the right flank, shot to gate, but the defender for a moment outstripped Komyagin.
There passed only a minute as Komyagin forced to rise from chairs almost all Nikolaev fans. Yury made pass to a penalty area of CSKA and neatly sent a ball to a far corner of gate. 2:0!

After game
Head coach of IFC "Nikolaev" Mikhail Kalita:
- We played with the strong rival, but were adjusted only on a victory. Alas, the first time was failed, players poorly acted in attack. In a break the trainer's staff introduced amendments, and in the second half of a match football players of IFC "Nikolaev" became more active in ball selection, showed character.
While we can't attack all ninety minutes therefore game built from defense. In the long term with emergence in team of new performers we will be able to act with higher quality in attack. Though gleams are already now and, the main thing, the IFC "Nikolaev" had a command spirit.I will note that on creation of the efficient collective, capable to solve serious problems, we have only three months. We will be guided by local football players. If to invite visitors, they have to be stronger than the Nikolaev. Mass arrival any more won't be, team dot selection waits.
Player of a match
The player of a match according to the version "Nikolaev news" was the halfback Yury Komyagin who was active throughout all game and hammered a beautiful goal.
Review of round
29-й round, on May 15, (Friday)
Carpathians-2 - Reigning-2 -+:-
I grew - Dnepr -- :-
On May 16 (Saturday)
Unity - Obolon-2 -+:-
Arsenal - Bukovina -3:1
FC of Korosten - Dynamo - X. -- : +
V.'s field - T field. -3:4
Veres - the Bastion -0:0

29-й round took place without participation of "Dnepr". The Cherkassk club fell the fifth victim of crisis in group "A".
The match in Vinnytsia where two "Fields" met was central. Owners conducted in the account at first 2:0, then 3:1, but everything, lost. The victory of the Ternopol team allowed it to come nearer to the treasured permit in the first league closely.
"Arsenal" surely beat "Bukovina", Igor Artimovich's wards moved from the fifth on the second place. Belotserkovsky football players didn't lose in the spring of any match - five victories and two draw.