The next hockey season which has passed under the auspices of the state target program "Hockey of Ukraine" comes to the end. Than not an occasion to communicate to the president of the Nikolaev regional Federation of hockey Igor Bolotov:

- On June 2-3 enlarged meeting of federation of hockey of Ukraine took place. On it I was present together with the vice-the president of regional federation of hockey Dmitry Omelchenko. There considered a number of important questions. After the next failure of a national team the decision to pay special attention of our youth national team is made. In March, 2010 in Kiev the youth World Cup will take place. And so from each city of the country groups of school students which will be able to go to the capital will be created to be ill for hockey players. Such here promoting of our favourite sport! Construction of new ice arenas over all country proceeds. In 2009-2010 it is planned to build 12 arenas), four are already put into operation - in Kharkov, Donetsk, Kalushe and Kherson. In all regions regional federations of hockey are created and registered. Offices on hockey open at детско - junior schools. In Nikolaev too soon there will be a hockey office, it was necessary to be defined - on the basis of what DYuSSh. Intend to take two - three groups of children from four to eight years till 20-25 people in everyone. For work the skilled trainer representing one of the hockey centers of the country will be involved. Now the Nikolaev children are engaged in hockey only on a skating rink "Gulf Stream", age of two tens pupils - from eight to thirteen years. They are trained by Vladimir Lavrentyev, Alexey Dolzhenkov, Valery Mashkin. The federation will do everything possible that as much as possible Nikolaev boys came to hockey!
- Even it is surprising, after all many DYuSSh nowadays hardly - hardly make ends meet …
- Yes, детско - youthful sports have hard times. Nevertheless, our task - to resolve an issue with the city authorities of allocation of three rates for trainers. And to resolve an issue from one of DYuSSh. The most acceptable the option seems DYuSSh-2 which is based at Nadezhda sport school.All main expenses - on form acquisition, ice rent, compensation of trainers - all this will be taken on the shoulders by regional federation. Sources of financing can be various: both trade-union means, and budgetary, can give feasible help and parents of children. For rendering the methodical and practical help to young hockey players we will attract associates of the Nikolaev hockey Vladimir Lavrentyev and Vladimir Stoyanov.
- What situation today with "adult" hockey in Nikolaev? What for fights go nowadays on an ice skating rink?
- We held two tournaments, they were organized by a skating rink "Gulf Stream" and its director Alexey Ivashkov. Six teams played in tournament on a cup of "Gulf Stream". Odessa "Bears" became winners. These competitions are remarkable such circumstance: the new Nikolaev Gulf Stream team debuted! It is curious that as a part of this team the defender Oleg Mashkin, our glorified boxer, and also some other the former athletes, representatives of different types plays. And on June 6-7 in Nikolaev passed one more tournament, with participation of teams of Odessa, Kherson, Zaporozhye. For a number of reasons any of the Nikolaev teams didn't participate in it though we have already three friendly staffs. It is MHK "Nikolaev", "Orion" and "Gulf Stream". It isn't excluded that on a hockey map of the city of Nikolaev there will be also new teams, after all the number of enthusiasts of this sport grows. We should resolve and new issues: about creation of a national team of the city of Nikolaev, about its participation in competitions of All-Ukrainian level.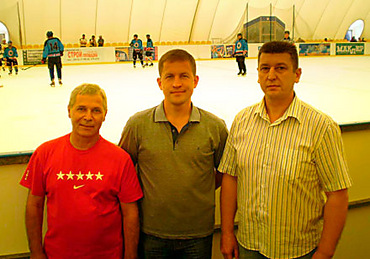 In a picture: V. Stoyanov, A. Bolotov and A. Ivashkov.
* * *
The ice skating rink "Gulf Stream", as well as a hockey season, too will take a technical time - a miss at the end of June. In the middle of July to open a new sports season. The director of a skating rink Alexey Ivashkov noted that to the summer period on the Nikolaev ice will carry out training collecting figure skaters from Sankt - Petersburg and other cities of Russia. Trainings and hockey players will renew. You know, and there is something unusual that we speak about the Nikolaev hockey not only during a winter time, and and in the hot summer. Who knows, maybe pioneers of local hockey in 20-x years of last century dreamed about similar. Though more likely about such before also it was impossible to dream!