At 10.00 on July 1 on the first floor of the Nikolaev city hall the action "Started measure the pressure - tell a stroke "Isn't present! " within Day of fight against a stroke in Ukraine which is spent by the Ukrainian association of fight against a stroke with support of MOZ of Ukraine, AMN of Ukraine, city and regional managements of health protection, Association of nurses and medical colleges and schools of Ukraine.
As the representative of UABItoldElena Yevstigneyeva, it already the third action in Nikolaev (the first passed in February and April). Today in 9 points of the city (the Executive Committee of the City Soviet of People's Deputies, the regional state administration, shopping centers and policlinics) students of the Nikolaev basic medical collegefrom 10.00 till 14.00will measure pressure by everyone. And who will have raised pressure, will ask to be registered that then to transfer these data to regional management of health protection.
Besides, 27 students (on three in each "point") will tell all measuring pressure about risks of development of strokes, about the main symptoms of a stroke and about methods of protection against a stroke. After all the stroke takes the third place among the reasons which take away lives of Ukrainians.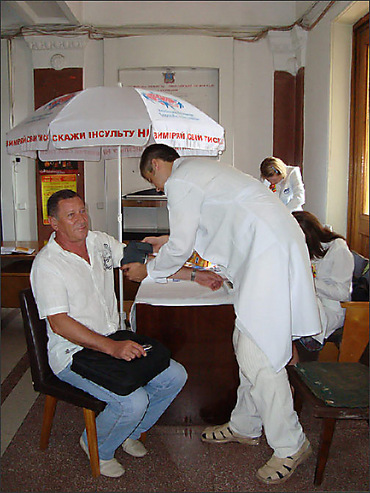 As for Day of fight against a stroke, that, according to E. Yevstigneyeva, this day isn't fixed in a calendar - each city chooses independently, in what day to it to struggle with strokes. For example, on June 30 the similar action took place in Kherson. But, maybe, and well that such day isn't fixed in a calendar is allows to hold not one action, and a little in a year to draw attention as it is possible bigger number of people to the reasons which can lead to a stroke.