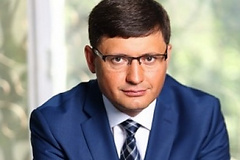 The manager of plant of Rinat Akhmetov Vadim Boychenko became the mayor of Mariupol, and to the City Council go only three parties.
The results of vote declared terizbirkomy testify to it, transfers the edition 0629.
According to the final protocol, a little more than 88 thousand voters voted for Boychenko.
For his next competitor independent candidate Yury Ternavsky–10,2 thousand.
On elections to the City Council I won a convincing victory «Oppositional block».
From 54 newly elected deputies of the Mariupol City Council 45 will be from ABOUT.
Except «oppositionists» went only two parties «to the City CouncilStrength of people» (5 deputies) and «Our edge» (4 deputies).
The main unexpectedness of elections in Mariupol was that presidential «Petro Poroshenko's block» I couldn't even break 5% a barrier and go to the City Council.
It is known that Boychenko went on elections as the independent candidate. It worked as the personnel director of the Mariupol metallurgical complex of a name of Ilyich who belongs to Rinat Akhmetov.