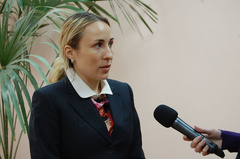 The deputies representing «Petro Poroshenko's block - «Solidarity» in Nikolaevsk regional council, decided to support the chairman of the Zhovtnevy district state administration Victoria Moskalenko as the candidate for a regional council post of the head.
The relevant decision was made unanimously during a meeting of fraction on Wednesday, December 2, about it reported in a press - service of party.
As it is noted in the message, deputies from BPP also made the decision to support on elections of the first deputy chairman of a regional council Mikhail Sokolov from «Batk_vshchini». In turn at Sokolov reported about intention to support Moskalenko at vote.
According to the available information «Crime. Is NOT PRESENT» , today representatives of BPP held negotiations concerning Moskalenko's support with members of other fractions, and according to preliminary data it has enough voices for election.
Earlier it was reported that BPP considered at once some applicants on this post, however, all others, except Victoria Moskalenko withdrew the candidacy in its advantage.
From sources in «To Batk_vshchina» it became known that at session of a regional council plan there will be representatives of the parliamentary fractions entering into the coalition, most likely, it is Ivan Kirilenko and Sergey Berezenko, which journalists «caught» on «sharing» posts of heads of regional councils, in the Verkhovna Rada. Besides, there is information that in «To Batk_vshchina» will insist on that election of the chairman of a regional council and its first deputy happened «package» vote that contradicts the current legislation. Certain deputies state fear of that in case of refusal from such principle of vote, session can be broken.
It is known that the first session of the Nikolaev regional council will take place on Thursday, December 3, though it was initially planned for December 10.
Earlier it was reported that Moskalenko is a creature of the chairman The Nikolaev regional state administration of Vadim Merikov, and the solution of a question on its election became possible actions of several people's deputies in Kiev.