The vessel "Beriks" which is also known as "Smelly Dutch" from - for rotten meat which transports on pine forest, tried to enter illegally on ChSZ territory on repair.
The top officials of Nikolaev and Nikolaevka gathered for meeting to decide, that to do on July 29 areas with not law-abiding "Beriks".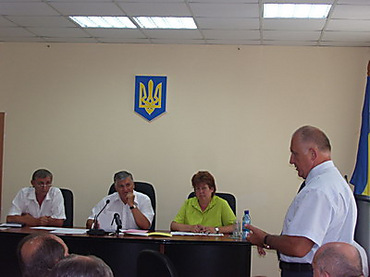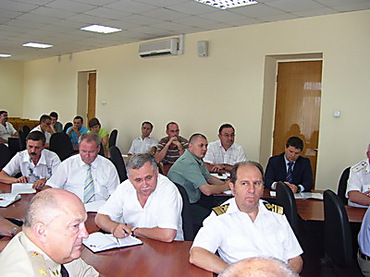 As reports a press - regional state administration service, this vessel is in territorial waters of Ukraine since November 29, 2008.
According to the decision of the Chief state inspector of veterinary medicine of Ukraine import to the country of meat expired is forbidden.
Despite it, on July 1, 2009 in defiance of operating "Rules of swimming in North - the western region of the Black Sea", "Obligatory resolutions on Youzhny port and contrary to a ban of the pilot, according to instructions of the shipowner of the vessel "Beriks" the captain of this vessel samochinno carried out transition to anchor parking around Youzhny port.
On July 24 in Odessa meeting of the interdepartmental commission which made the decision concerning vessel "Beriks" calling on repair in GAHK "Black Sea Shipbuilding Plant" took place.
But the management of ChSZ informed JSC Interfish-Biotekh which is the owner of "The smelly Dutch", on a gap unilaterally contracts of June 16, 2009 on carrying out repair of the specified vessel, referring to non-performance by the customer of contractual obligations.
Despite it,the shipowner and the captain "Beriksa" on the basis of the decision of the interdepartmental commission of July 24, 2009 carry out attempts to pass through Bugsko - the Dneprovsky channel to ChSZwater area.
During meeting all offers of the relevant services concerning solutions of a problem question were heard.
The governor Alexey Garkusha focused attention present thatunder the law there are no bases to accept a vessel.
Following the results of meeting it is solved: production which is onboard the vessel "Beriks", is dangerous according to a conclusion of the Chief state inspector of veterinary medicine of Ukraine, it is considered forbidden to import to the territory of Ukraine and creates potential threat of epizootic character.
In view of lack of the contractual relations between ports and the ship-repair enterprises of the Nikolaev region with "Beriks's" shipowner of JSC Interfish-Biotekh, is decided to forbid entry of a vessel into the water area of ports and ship-repair plants of the region.
To border service "Nikolaev", the Nikolaev customs, Regional Department of the Ministry of Internal Affairs, SBU and other services to take measures concerning prevention of movement on the territory of the Nikolaev region of the vessel "Beriks".
And boundary to service "Nikolaev", the Nikolaev sea trade port and GP "The Delta — the Pilot" have to provide continuous control over movement and location of the vessel "Beriks".