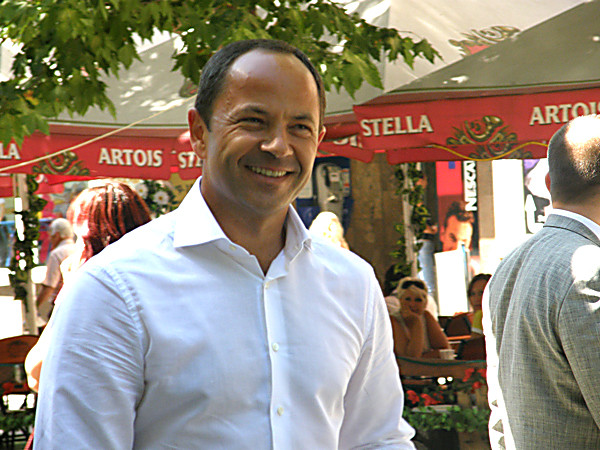 "Crime. Is NOT PRESENT"wrote about that yesterday in Nikolaev there was a known Ukrainian politician
, future presidential candidate of Ukraine Sergey Tigipko.
After communication with nikolayevets which took place in the assembly hall of ChGU of Pyotr Mogila, Sergey Tigipko went on walk on the central street of Nikolaev - Sovetskaya Street.
And though Sergey Tigipko declared that in Nikolaev while there is no that person who would represent it at local level, about real candidates, to be exact to tell about wishing to hold this post, it is already possible to guess.
"While there is only a group which supports us", - Sergey Tigipko declared, despite it many "marry off" to Sergey Tigipko ex-vice-the governor of the Nikolaev area Mikhail Rykhalsky.
We will remind that some time ago, Mikhail Anatolyevich considered as one of the main applicants for a post of the head of regional representation of "Civic stand" Anatoly Gritsenko. But, something is probable didn't grow together.
According to available information Mikhail Rykhalsky wishes to present to S. Tigipko in the region and some weeks tries it "will be pleasant" to the candidate for president.
Reference: Rykhalsky Mikhail Anatolyevich. Ovruch of Zhitomir area was born on January 19, 1955 in.
Education is higher, in 1978 graduated from the Nikolaev shipbuilding institute, in the specialty - the engineer.
In November, 2000 it was appointed to a position of the vice-chairman of the Nikolaev regional public administration. At this position I worked till fall of 2007.
It should be noted that Mikhail Rykhalsky is known in the Nikolaev area as the person who in 2004, during orange revolution, publicly on air of the 5th channel declared that the governor of the Nikolaev area of that time is involved in the organization of so-called "roundabouts".
It is possible to remember also the epic with M. Rykhalsky's dismissal from a post of the deputy governor of the Nikolaev area in 2007.