Directly within the city of Nikolaev, in the Ship area, on Yantarnaya St. there is a barrow. It became known of it still at the end of 70-x years of the last century, but excavations long time weren't conducted in view of lack of finance.
Nevertheless, students of department of history and archeologists scientifically - the research center "Lukomorye" undertook an excavation. Burials. According to preliminary estimates experts, vary from the IV-III millennium B.C. That is graves are older, than known in Nikolayevshchina ancient the ancient settlement the Wild garden.
- It is pit or katakombny culture, - the director scientifically - the research center "Lukomorye" Kirill Gorbenko told. - In this territory people - nomads are buried. At barrow detection its height was more than 1,5 meters. Except the oldest burials, is here and younger, them "подхоранивали" to a barrow later.
As the archeologist Roman told, the excavation of 6 graves is already made. The found remains belonged Indo-to Iranians. After extraction over them the anthropological analysis will be made. If remains aren't of any most rare value - from will bury in a necropolis
The excavation of one of the oldest graves is conducted by the archeologist Roman. He told that the found skeleton belongs, most likely, to the girl. It on a skull has no splinter of a form, characteristic for blow or trepanation. Thus it is unlikely that this trace was left by the fallen wall of overlapping. Possibly, it everything - was blow which served as a cause of death of the girl. The found bones are smeared with orange paint - bodies before burial rubbed with ochre. After skin and muscles shrank, ochre ate in a bone.
Besides, for the first time in the territory of Nikolayevshchina vertical anthropomorphous steles in the same place are found. These are the most ancient images of the person, a statue of gods, archeologists claim. Though unsophisticated journalists and the citizens who were present at an excavation had to put the imagination to guess outlines of the person in a piece of a stone.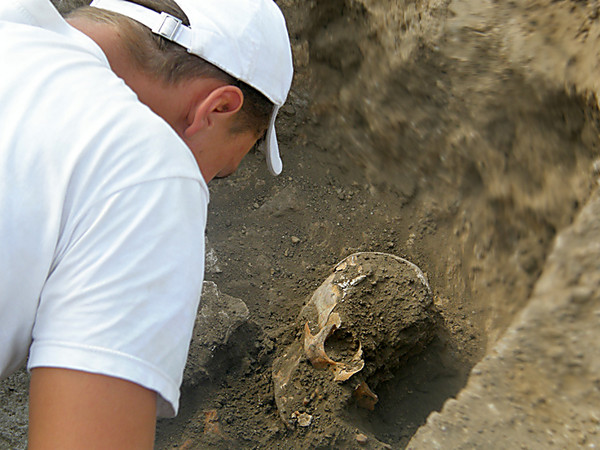 The oldest grave - allegedly, women
Possibly, it was lost from the blow which has broken a skull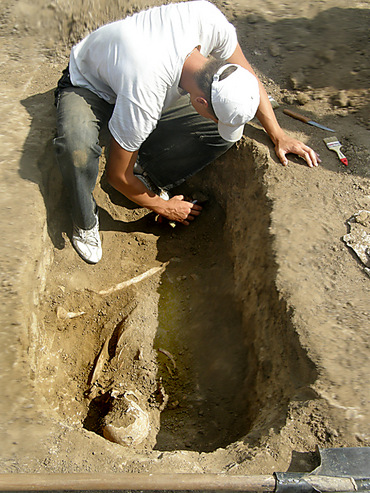 Grave small, feet of the girl are turned in and inclined to the left, all burials by the head to the west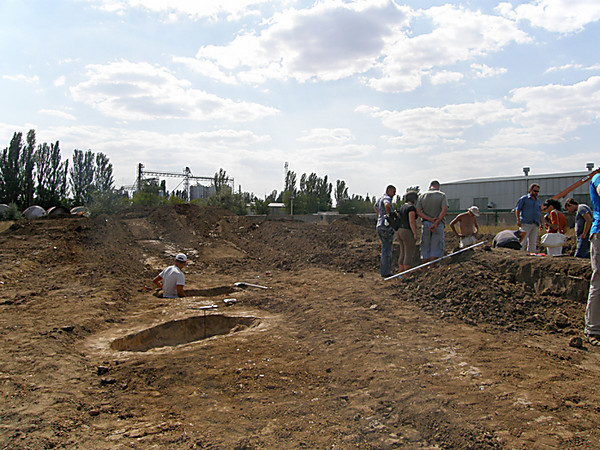 Excavation is conducted in the Ship area on Yantarnaya St.
Younger grave, man's, "podkhoronenny", where - that 3 millennium BC
Anthropomorphous Stella - not everyone will guess in it a statue of god...