The strange statement was heard on September 14 in Kiev from lips a press - the secretary of Rodyna party Alexander Hristoforov. It sounded it at the very beginning of a briefing which was carried out by markovets on September 14 to a press - the Interfax news agency center.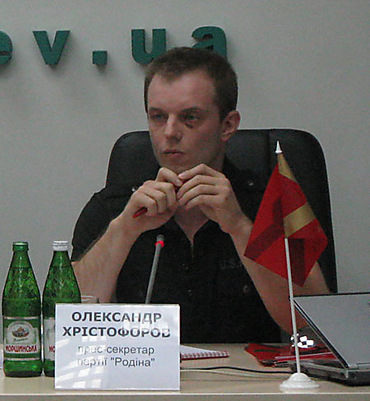 "As you know, the political council of Rodina party made the decision on Igor Markov's absence in investigative city department of Nikolaev.I was against this decision. As a matter of fact, result on the person … As you see - on a face …We have a democratic party andeveryone expresses will as can …"

It is the direct quote from the statement of mister Hristoforov. This statement a press is similar - the secretary became a bolt from the blue for the representative scandalously - known TV channel "ATV" of Igor Dmitriyev. He with barefaced surprise looked at the member of the same party.
At a press of the secretary of Rodyna party under eyes there were bruises. Really members of the same party mocked at a face of mister Hristoforov for his opinion and remorselessly let out it on a meeting with representatives of mass media in the capital?
Look from Odessa