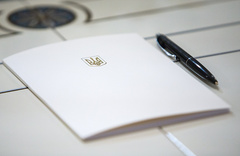 The president of Ukraine Petro Poroshenko has announced a competition on occupation of vacancies of the head of the Nikolaev regional state administration and 10 heads of local public administrations.
As reports his press - service, the president has signed the corresponding order.
«As of August 8 are vacant a position of the chairman of regional and 49 chairmen of regional public administrations. The president of Ukraine has announced a competition for one vacant post of the chairman regional and 10-ти chairmen of regional public administrations» , - notes a press - service.
Also it is specified in the message that the law on civil service provides appointment of the corresponding officials according to the recommendation of the Commission on questions of the highest case of public service. Such commission has been formed on July 13 by the order of the Cabinet.
It is noted that documents are accepted till 18:00 on September 6, and the competition will take place On September 12 at 10:00 in Kiev.
We will remind that ex-the chairman of the Nikolaev RSA Vadim Merikov has resigned after corruption scandal which main person involved is his first deputy Nikolay Romanchuk then the Cabinet of Ukraine I have accepted his resignation. However Poroshenko couldn't appoint the new chairman of RSA from - for the law on public service according to which candidates, including, and to this position have to pass a competition.
As a result President I have signed the decree, according to which in case of resignation of the head of local public administration, temporary execution of his duties is assigned to one of deputies or other government employee of the relevant administration. And recently BP in the first reading has adopted the bill giving Poroshenko freedom at appointment of heads of RSA.