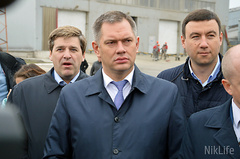 It is necessary to agree on an issue of reception of garbage from Lviv on the Nikolaev solid waste landfill with inhabitants and deputies of the Nikolaev and Factory districts and to receive the decision of ecologists about what consequences will be brought by increase in number of burial of household waste.
About it on the page in «Facebook» the People's Deputy of Ukraine from «has writtenPetro Poroshenko Bloc» Boris Kozyr.
«News about what the mayor of Nikolaev Alexander Senkevich has solved «to import» garbage from Lviv, I have apprehended as a bad joke. Agree, the idea to carry garbage for 800 kilometers looks absurd. But having read comments of the mayor that residents of Nikolayev have to «to lend a shoulder» and «to be one nation» have convinced me of all gravity of a situation».
«The fire on the Gribovichsky dump near Lviv has opened a burning issue which Andrey Sadovyi didn't solve for years. But to carry garbage through all country is not a way out. Kiev, Zhytomyr, Exactly, Ternopil…have refused «to lend a shoulder» To Sadovyi, obviously, caring about health of the citizens. And me health of residents of the Nikolaev region, my voters, not less valuably, than to the mayor of Zhytomyr health of residents of his city. Besides, Alexander Senkevich the decision risks to cause a wave of national protests which, considering difficult socially - a political situation in the country, can have unpredictable consequences…As the People's Deputy elected in the Nikolaev and Factory districts I has addressed deputies of the relevant councils with the offer to urgently discuss with people the order about reception of household waste from Lviv and to publish the relation to this problem» , - the people's deputy has noted.
Earlier it was reported that on September 10 the mayor of Nikolaev Alexander Senkevich I have signed the order, according to which on the landfill near Nikolaev will bring household waste from Lviv. The mayor called it a temporary measure. On September 12 on the Nikolaev ground already have begun to accept the Lviv garbage.