After presidential election in Ukraine российско - the Ukrainian relations won't improve. Such opinion of the UNIAN was expressed by the Russian oppositionist, the former Deputy Minister of Energy of the Russian Federation, the president of Institute of power policy Vladimir MILOV. "To proceed viscous opposition and pushing by elbows which to proceed irrespective of who will win presidential election", - the expert told.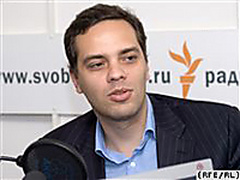 According to V. MILOV, it is caused by that the operating Russian authorities consider Ukraine as the territory of desirable protectorate where they would like to influence acceptance political decisions.
"Any who will win at presidential election in Ukraine, even Victor YANUKOVYCH, will be the person who will defend the Ukrainian interests quite rigidly", - he is convinced. Thus V. MILOV reminded that when the former head of the Ukrainian state Leonid KUCHMA went on the second term, in Russia said that it will protect the Russian interests, but then there was Tuzla, dismantlings on gas and privatization where the Russian companies weren't allowed.
Besides, the expert considers that the authorities of Russia initiated adoption of amendments to the law "About Defense" which allow use of the Russian army outside Russia to cover itself after war in South Ossetia.
"I advise today not to exaggerate this event. Adoption of amendments to the law "About Defense" in Russia is only cover of the of "a soft place" after the rough violation of the law when military conducted operations outside the Russian Federation without Federation Council sanction that demanded by the Constitution" was allowed a year ago, - V. MILOV told.
"Now, to cover itself, adopt this law. In Ukraine it apprehended as the law on war with Ukraine, but it not so. Don't be afraid. Our children are very cowardly children and can be at war only with small Georgia", - the expert added.
According to him, Ukraine can send warplanes to the Russian territory and start bombing, and Georgia couldn't make it.
"If bombs on the Russian cities begin to fall is there will be a sentence to any political regime in Russia. Ukraine has fighting aircraft, they never will attack Ukraine", - V. MILOV is sure.
As reported the UNIAN, on September 9 the State Duma of the Russian Federation unanimously in the first reading adopted initiated by the President of Russia Dmitry MEDVEDEV amendments to the law "About Defense" which provide possibility of expeditious use of the Russian Armed forces outside the Russian Federation.
It is provided that formations of Armed forces of the Russian Federation can quickly be used outside the territory of Russia for the solution of the following tasks: attack reflection on Armed forces of the Russian Federation or other armies deployed outside the territory of the Russian Federation; reflection or aggression prevention against other state; protection of citizens of the Russian Federation abroad; fight against a piracy and for the purpose of navigation safety.
In turn, the Ukrainian party expressed concern in connection with approval of this bill.