"Damage" which began with that on low placed big - a board on the Pushkin ring in Nikolaev from Victor Yanukovych's portrait tore off a floor - faces, and didn't end with this. At first it extended on other board on the same ring - as it is placed slightly above, in Yanukovych loaded with black paint, having got to the "distressful" lower part of the person.
One more board with the same black blot is on Lenin Ave. near the intersection with Ryumin St. To Victor Fedorovich closed up between an eye.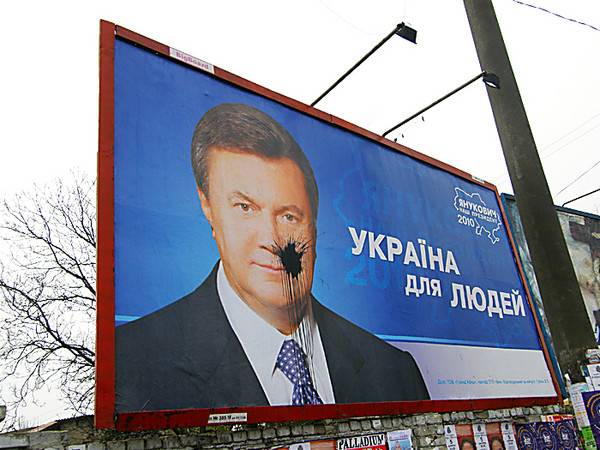 On Lenin Ave. near the intersection with Faleevskaya St. to main "regional" drew short moustaches, and on a forehead wrote "DEVIL". If Victor Fedorovich had more severe appearance, probably, he and would become similar to Hitler (possibly, this analogy tried to draw anti-regionals), but now Yanukovych became more similar to Charlie Chaplin.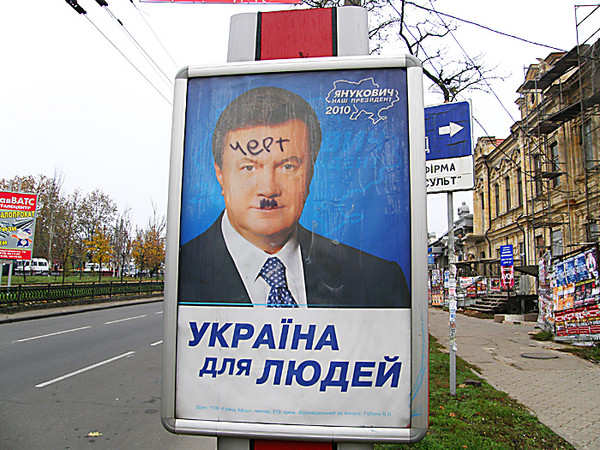 Other political борды, placed near Victor Fedorovich's portraits, remained whole and not vredimy.