As reports the edition "Nikolaev Messages", in the interview Pavel Yurlov, the head of a campaign headquarters of the candidate for president Oleh Tyahnybok and, in combination, the head of the Nikolaev regional organization of the All-Ukrainian association "Freedom" told about relationship with communists.
- And what relations at your organization with the KPU regional organization and its leader Vladimir Matveev?
- And what relations if it is our enemies can be? You can even look - their communistic flag at us on a mop. We won't beat them glass and so forth. Yes, on November 7 we tried to leave, but it was forbidden by a judgment. We foreknew a judgment.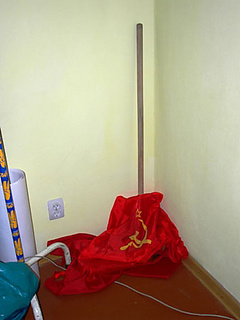 - That is, it was the conscious decision?
- Yes. There was no sense to leave. On the one hand, from - for judgments, with another - from - for flu. Our organization didn't leave, but it was the mistake. Next year we surely will leave, and no court will prevent us. As we see that on - with them it is impossible for another.
- But communists came for parade.
- Yes, we saw it. Our some members tried to resolve this issue together with militia, but militia, it is possible so to speak, them. Two years ago, when I was in the Youth congress, I remember how for one egg took away 22 young guys. Then too there was a similar protest action, we left with posters. That here it is possible to tell … I am absolutely sure that to communists made nothing after they left though under the law them had to take away. Instead took away five our guys near city administration only that they simply on a small bench sat. One, however, at once released, and others aren't present though they with themselves had documents. Mass media wrote that it were skinheads though none of them bald weren't. Such they didn't have anything. That one of them on a hand had a coat of arms, the State Emblem, Ppsniki called it the fascist. I consider that this lawlessness.We now gain strength therefore next year such won't be neither from militia, nor from communists.