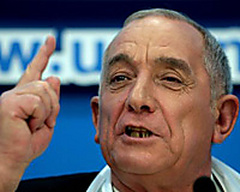 The candidate for president Vasily PROTYVSIKH intends to liquidate special pensions for civil servants.
As the correspondent of the UNIAN reports, the candidate declared it today during presentation of the pension plan.
"To liquidate the state pensions once and for all. There have to be pensions that the person fulfilled, and for his experience. You to me tell frankly that, unless that official does more, and more he there creates in the office, or that miner, that collective farmer, or that behind the machine", - told V. PROTYVSIKH.
According to him, there can't be a division of pensions on state or others. The candidate for president considers that the minister, the teacher or the miner has to have an identical pension - in time fulfilled.
"Everything is very simple it becomes: stolen it is necessary to return to the people, those country houses which don't get into a lens. I went to myself to Prikarpatye - the field-glass took to see that there is done. It is shame", - V. PROTYVSIKH noted.
According to him, "country houses rich" need to be given for kindergartens, nursing homes. "Here my such position in respect of provision of pensions", - the candidate emphasized.