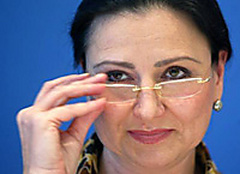 The question of guarantees of safety to the countries which have refused the nuclear weapon - to Ukraine, Kazakhstan and Belarus, - still isn't solved.
As the correspondent of the UNIAN reports, such opinion was expressed by the People's Deputy of Ukraine Inna BOGOSLOVSKAYA, speaking at a forum of the European and Asian mass media in Moscow.
"After Ukraine refused the nuclear weapon, wasn't signed any international treaty. The Budapest memorandum - an instruction in which the formula of safety of Ukraine looks approximately so was signed - if someone is going to encroach on the territory of Ukraine, signers of the Budapest memorandum will gather and will think that to do to them", - told I.BOGOSLOVSKAYa.
"If we consider it as a guarantee of safety of the territory, we deceive ourselves", - the deputy emphasized. Thus she added that it concerns also Kazakhstan and Belarus.
I.BOGOSLOVSKAYa noted that the President of Romania, the country which is the member of NATO, declared that doesn't recognize today's borders three times. "It practically the tenth part of the territory of Ukraine is all our Bessarabia, it is Chernovitsky area", - told the People's Deputy.
As reported the UNIAN, the joint statement of the Russian Federation and the USA in connection with end of period of validity of the Contract on reduction and restriction of strategic offensive arms was widespread on December 4.
In this document Russia and the USA confirm safety guarantees to Ukraine, Kazakhstan and Belarus as to the non-nuclear countries on the expiration above the specified Contract on December 4, 2009.
"Performance by these states of the obligations under the Protocol to the Contract on the START of May 23, 1992 (The Lisbon protocol) and their accession to the NNPT as the states which aren't possessing the nuclear weapon, strengthened their safety that found reflection, including in the Budapest memorandums of December 5, 1994. In this regard Russia and the USA confirm that the guarantees recorded in the Budapest memorandums will be on - former to be applied after December 4, 2009", - is emphasized in the statement.