Director generalPAO "Nikolayevoblenergo"and, in combination, the head of the Ship organization of Party of Regions Yury Antoshchenko bragged of the diplomawith the signature of the Minister of Fuel and Energy of Ukraine Yu.Boyko, which to it handed over at a forum under the auspices of Ministry of Fuel and Energy. About it reports the Internet - the edition mukola.net
.
As it appeared, the directorPAO "Nikolayevoblenergo"I decided to call a press - the conference devoted to a victoryPAO "Nikolayevoblenergo"in the all-Ukrainian project "Fuel - a power complex of Ukraine-2011. Present and future". Unfortunately, to a press - conference invited not all, it was visible is made not to hear inconvenient questions which could spoil Antoshchenko's mood during "festive" a press - conferences.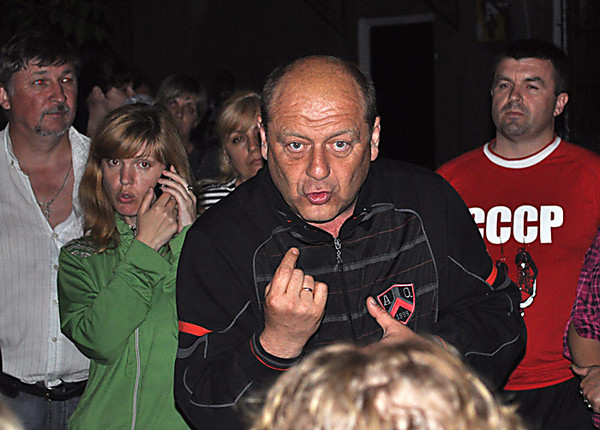 Yury Antoshchenko is able to explain very intelligibly everything to people
And to ask atYury Antoshchenois that. For example, it could explain a situation on a number of the tender purchases which have been carried out by the enterprise.
We will remind, "Crime. Is NOT PRESENT" wrote that "Nikolayevoblenergo" bought 35,5 thousand cans of condensed milk and bought car lifts at inflated price.
Also, it would be possible to ask the director regional power about relationship withhousing and communal services city Department. We will remind, "Crime. Is NOT PRESENT" wrote that some time ago "Nikolayevoblenergo" demanded to deal with officials of housing and communal services Department who don't cope with the duties.
And here some more on what it would be desirable to clear a situation:
In economic court of the Nikolaev area the number of affairs with participation of banks and "Nikolayevoblenergo" increased
Yu.Antoshchenko seriously took notice of 50 land plots in Nikolaev and already makes under them projects of land allocations
"Nikolayevoblenergo" bought fuels for cars more than on 3 million.UAH
"Nikolayevoblenergo" shortchanged the business owner more than on 22 thousand UAH
"Nikolayevoblenergo" bought cars almost on 1 million UAH
The court recognized that in "Nikolayevoblenergo" illegally dismiss employees. Document
Nikolayevoblenergo illegally "forces down" from consumers money
In "Nikolayevoblenergo" forge documents that it intends to increase the sums of penalties

The question of privatization is actual also"Nikolayevoblenergo", conversations about which go already enough long time.
From edition:many conversations approach today about increase of tariffs for the electric power and need of increase is explained by that power supplying campaigns, allegedly, receive less means. "Nikolayevoblenergo" always reports that works with profit and, probably, not correctly, during such period difficult for the country "to squander" tens of millions hryvnias, buying thousands cans of condensed milk and car lifts at inflated prices.