B Nikolaev started distributing leaflets of separatist character of which people convince that «Kiev–any more the capital of Ukraine» .
About it reports the edition Mukola.net.
As it is told in the message, on city streets unknown began to distribute to nikolayevets of a leaflet of separatist character in which is said that «Kiev –any more the capital of Ukraine! The southeast of the country refused to recognize any decisions which will proceed from the 4th Reich in Kiev» .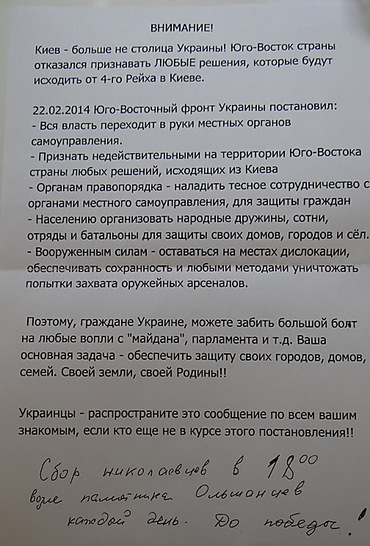 Also in leaflets from a name, a certain Southeast front it is said that «all power passes to local self-government institutions» .
"It is interesting, whether the secretary of the Nikolaev city council Yury Granaturov knows about it?"–the edition asks a question.
We will note that on leaflets there are no outgoing data and words isn't told about circulation.
We will remind, earlier it was reported that д епутаты the Nikolaev City Council unanimously accepted the appeal to the Verkhovna Rada in which solved not to support any manifestations of separatism and attempt to break territorial integrity of the state .
After that any of the Nikolaev deputies and officials didn't take part in congress in Kharkov where separatist ideas moved ahead.
We will remind that on February 23 people gathered in the center of Nikolaev, which stated readiness to take YEAH and to take the power in hand , for rapprochement with the Russian Federation.
We will note that while any reaction to similar manifestations from militiamen while isn't present.