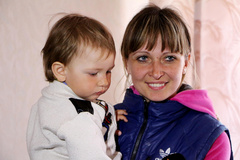 To Nikolaev from the territory of the occupied Autonomous Republic of Crimea in the night of March 29 there arrived the military personnel 204-oh crews of tactical aircraft of a name of Alexander Pokryshkin, placed in Belbek near Sevastopol, together with the wives and children.
The evacuated officers placed barracks of military garrison "Levanevtsev", and their wives and children - in sanatorium - a dispensary "Victory" on Gagarin Street.
In total at present in sanatorium there are 68 people, among which 26 men, 31 women and 11 children of different age, including the seven-months kid. Together with them to Nikolaev there arrived also the spouse of the commander of crew of the colonel Yulia Mamchura Larisa.
As of 16:30 colonel Mamchur already I arrived from Kiev and is in sanatorium with the spouse, soon on a garrison parade-ground in "Levanevtsev" has to will take place solemn creation of officers.
- We quickly collected things, bags which we transported at own expense though to us promised cars, all the efforts, and arrived here. Arrived here to uncertainty because we don't know that will be farther … In spite of the fact that to pilots in Russia offer both housing, and salaries much better, and all of us equally returned here without apartment and without a thing … Certainly, I believe that our state will come round also all - they will remember that there are people, true to the oath which really patriots, - I told journalists of the spouse of one of the belbekovskikh of officers.
As reported in a press - service of the Nikolaev regional public administration, if something happens Nikolayevshchina is ready to receive and further the military personnel from the Crimea, their families and ordinary inhabitants of the peninsula: all conditions for their comfortable placement in sanatorium - dispensaries "Ingul", the territorial center for social service of the population of the Nikolaev city council, sanatorium - a dispensary "Knowledge" and sanatoria "Borisfen" in the city of Ochakovo are created.
As earlier it was reported, it was succeeded to be evacuated from the Crimea by the military of crew of Mamchur not without difficulties - a long time to officers and their families couldn't find transport. Activists long looked for money to pay buses and to deliver 220 people to Nikolaev, nevertheless about 22 o'clock in the evening on Friday the belbekovsky military personnel left to Nikolaev.